Reporting indicates that the containership MSC LUCIA has been boarded by an unknown number of attackers 86nm SW Agbami Terminal. A naval vessel is inbound. 
The incident is understood to be ongoing according to DRYAD GLOBEL news

Vessels transiting the area are advised to exercise extreme caution.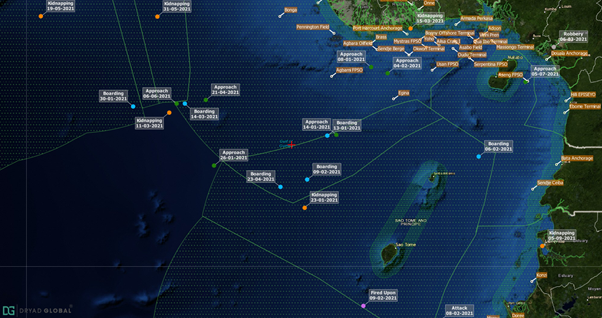 Oct 25, 1600, UTC UPDATE: Confirmed (by Dryad) MSC LUCIA was boarded. MSC LUCIA is still adrift, AIS on. A container ship was approached by the Russian Navy supply tanker AKADEMIK PASSION (IMO 9778193), tanker stopped near the container ship. The tanker is escorting the Russian Naval Group, consisting of Udaloy-class destroyer VICE-ADMIRAL KULAKOV and salvage tug. So in all probability, the Russian Navy is already on the scene, assisting the container ship and her crew. Let's hope this is the case.
The ship was attacked at around 0900 UTC Oct 25 in the Gulf of Guinea, according to ships tracks in the area, the container ship MSC LUCIA is most likely the target. MSC LUCIA is en route from Lome Togo to Douala Cameroon, ETA Oct 27. She was probably, waiting to fit in the schedule, either drifting or moving in loops. AIS is on, as of 0945 UTC she was adrift. Ship's ID not confirmed, it's not known also, if attackers boarded the ship, awaiting updates.
Container Ship MSC LUCIA is currently located at WAFR – Gulf of Guinea at position 5° 51′ 12.031″ N, 1° 23′ 47.382″ E as reported by MarineTraffic Terrestrial Automatic Identification System on 2021-10-24 08:49 UTC (1 day, 10 hours ago)Marine Traffic report

MSC LUCIA (IMO: 8413887) is a

Container Ship

that was built in 1985 (36 years ago) and is sailing under the

flag of Panama.
Its carrying capacity is 1893 TEU and her current draught is reported to be 7.5 meters. Her length overall (LOA) is 189.38 meters and her width is 28.4 meters.
New FleetMon Vessel Safety Risk Reports Available: https://www.fleetmon.com/services/vessel-risk-rating/