Oct 19, 2021, 6:00 AM – Oct 20, 2021, 9:00 AM (your local time)
Statistically, every year, more than 5,000 shipping containers are lost overboard, not to mention ships being damaged, crews injured, and lives lost. That makes safe navigation and optimized ship routes essential for ship and crew safety. But efficient ship routes and navigation are not only crucial for safety it benefits fuel and time which helps owners to meet financial and environmental targets. On this 2-day online event Ship Navigation and Route Optimization our aim is to discuss more the following subtopics: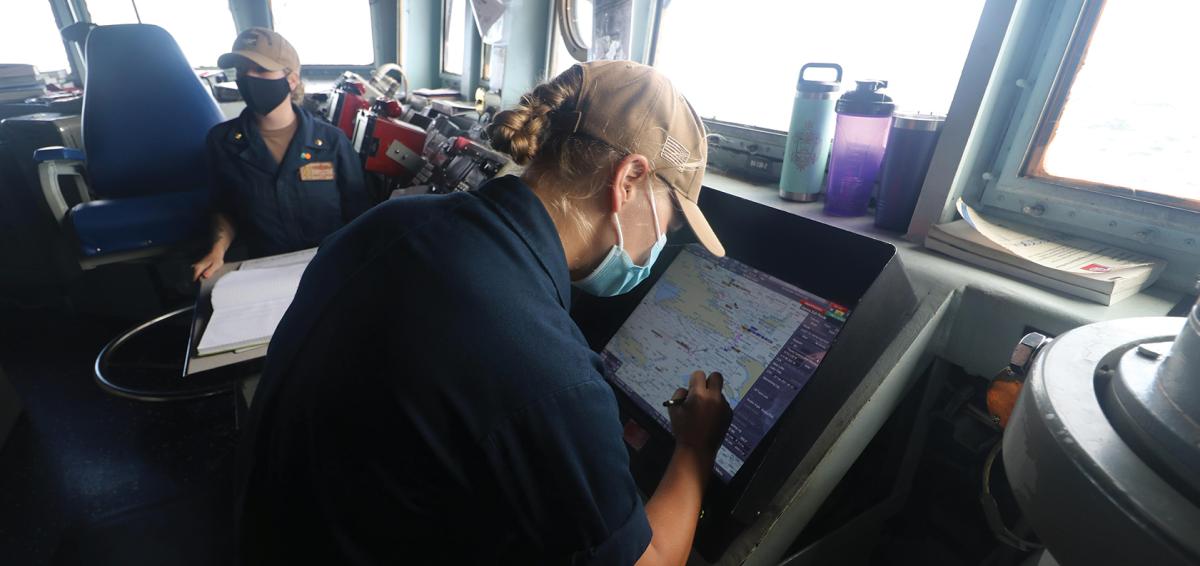 – Guidelines for safe ship navigation
– Autonomous ship reality: future AI-based navigation systems
– Ship speed variation
– Minimizing fuel consumption and time by route planning
– Maximum efficiency by analyzing data
– Weather forecasting methods for voyage efficiency
Our mission is to identify cost-effective solutions to enhance vessel safety and efficiency while protecting the environment.
Meet The

Presenters
Soren Vinther Hansen

Director (MODERATOR)

VesOPS

Soren is currently a consultant working in own performance analysis company. He has previously worked as COO for Vessel Performance Solutions. Has worked for ABS as Assistant Director for Vessel Performance and headed the Vessel Performance Services for the Advisory Services in ABS. Has worked as a Vessel Performance Specialist in A.P.

Moller-Maersk,

Propulsion Dynamics and Principia North and was for a period Associate Professor at Svendborg International Maritime Academy (SIMAC) where the focus was on Nautical Operations and Safety. Has operational experience from a long career as a Master Mariner with various Shipping Companies in Denmark. He has a Ph.D. degree in Naval Architecture from the Technical University of Denmark (DTU) and also holds an MSc degree in Marine Technology from the Norwegian University of Science and Technology (NTNU).

Maria Hernandez Martinez

Product Lead Voyage Performance

Wärtsilä

Maria Hernandez Martinez, a Professional meteorologist working in the maritime industry for the past seven years. Extensive experience both from weather routing and Owner/Operator perspective. Currently managing the voyage optimization products within Wärtsilä Voyage's Fleet Operations Solution.

Nicholas Bourque

Chief Strategy Officer

OneOcean

Nicholas' role as Chief Strategy Officer is to bring OneOcean's product portfolio together to create connected solutions that deliver real benefits for the maritime industry. Nicholas also focuses on developing the company's future strategy and delivering its vision to offer solutions
that reinforce safer, cleaner, and more efficient working practices.

Michael Obrien

Vice President Operations

StormGeo

After graduating from the New York Merchant Marine Academy Mike sailed as a deck officer.  Upon coming ashore in 1993 Mike has worked in the area of voyage efficiency and optimization first as an operational team member but gradually taking on more responsibilities as the Atlantic Operations Manager followed by more global operational responsibilities.  In addition to voyage efficiency, Mike became involved in business development discussing the more technical aspects of the services with clients and later working also as a Product Manager for some of the key StormGeo products.  Over the last two years, Mike has returned to his operational roots as global head of StormGeo operations growing our operational capacity in APAC, Europe, and North America.

Timo Essers

Product manager

NAVTOR

As student nominated and awarded as young Maritime Professional. A turbulent career in various branches within the maritime industry leading to rapid promotion in ranks. (Coasters, Feeders, General cargo vessels, Chemical Tankers, Module carriers, Semi submersibles, Heavy lift industry, Cruise/passenger vessels, Tugs and Offshore). Worked as a self-employed navigator prior to moving career to shore side and joining NAVTOR. + 2 years experience as a Product Manager within NAVTOR (Passage Planner, Security data, Ports Database, Digital logbooks).

Angus Whiston

Commercial Director

DeepSea

Angus is the commercial director of DeepSea Technologies. With a background in innovative technology and a passion for big ideas, he is delighted to be part of DeepSea's mission to harness AI for the benefit of the shipping industry and the environment. Angus has seen first-hand that AI can already provide the next breakthrough in vessel efficiency – and that the only remaining obstacle is a commitment from the industry and implementation.

Lajos Holmslykke

Marine Master Performance Management

TORM

Educated Marine Master from Svendborg Nav school in DK
Worked in Maersk (Container vessels) for 20 years where I left in 2014
In Maersk, I headed the Energy Efficiency department After Maersk I took up a leading role as Head of Performance in Thorco Projects (MPP Vessels) Joined Torm (Tankers) in 2019 where we created a commercial voyage optimization position leading all routing activities under the commercial department. The role includes our path to digitalize our activities in regards to routing and optimization while vessels are underway.

Christian Dahll

Head of Commercial Operation

2020 Bulkers

Mr. Christian Dahll currently serves as Head of Commercial Operation at 2020 Bulkers Management AS. Prior to this Mr. Dahll worked 11 years in Höegh Autoliners, most recently acting as Head of Voyage Management/Vessel Operation. He has held several previous positions in shipping, including Trade Manager at EML, Brussels 2010-2012, Shipbroker at RS Platou 2007-2008 and 2nd officer in Wallenius Wilhelmsen 2003-2007. Mr. Dahll has a BSc. in Nautical studies from University of Southeast Norway.

Capt. Atanu Maiti

Regional Voyage Management

Höegh Autoliners AS

Shipping, Trade, and Logistics professional with over 15 years of Global experience in Commercial Operations of Shipping Lines, Business Strategy, Marine and Land Transportation, Port, Terminal &Vessel Operations, Product Pricing, Freight, Budgeting, and Sales. Proven strong Leadership Ability in building and managing International teams driven by Performance Management and Financial goals. Achieved Operational Excellence for over 3000 port calls per year, Liner Operations for a fleet of 60 vessels, and Inland Logistics Projects. Delivered Procurement strategy for Bunker, Shipping Agency, and Logistics services of over $300 Million per year. Sailing experience of 16 years onboard Container, Ro-Ro, Tanker, LPG, Break Bulk, and Bulk vessels.

Giannis Papageorgiou

External Consulting

BS Group