Home
News & Reports
Sheikh Khalifa bin Zayed A wise leader who led the growth of his modern nation
El-Sisi expressed his heartfelt condolences to the UAE leadership and the people
The Ministry of Presidential Affairs expressed its condolences to the people of the UAE, Arab and Islamic nations, and the world on the death of the leader of the nation. There will be 40 days of official mourning with flags at half staff, and three days of closure of ministries and official entities at the federal and local levels, and the private sector
In succeeding his father Sheikh Zayed, the revered Founding Father of the UAE, as Ruler of Abu Dhabi and President of the UAE Federation, Sheikh Khalifa bin Zayed was following in a giant's footsteps.
Not only did he have the reputation and achievements of Sheikh Zayed to live up to and preserve, he also had to develop his own style of leadership and, if the country was to continue to prosper in the future, find a way to build on the solid foundations of the past.
Luckily, his father was a superb teacher. As Sheikh Khalifa noted in an interview in 1990: "I learn something from him every day, follow his path and absorb from him his values and the need for patience and prudence in all things."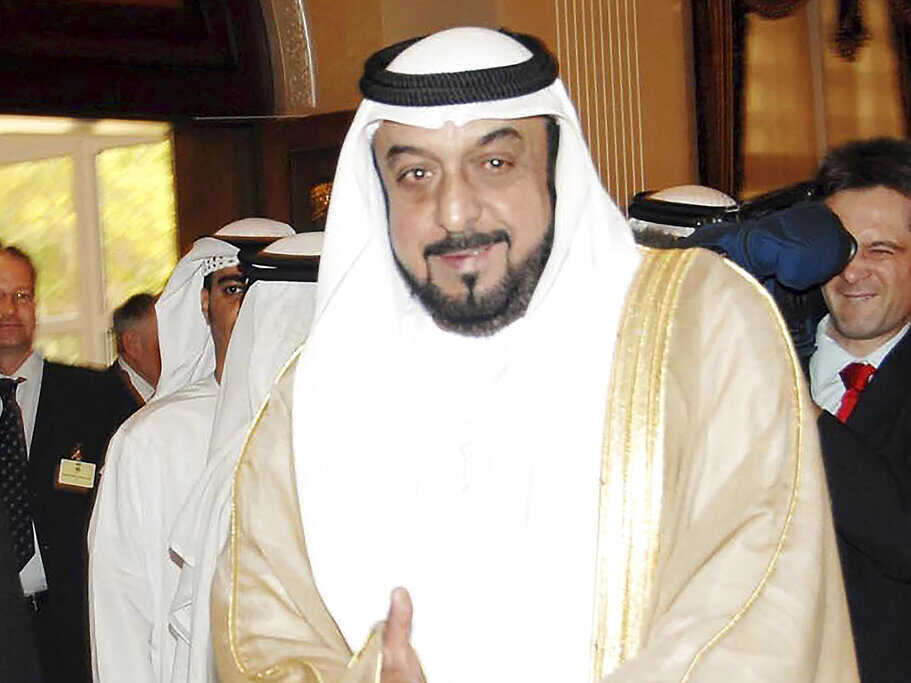 Sheikh Khalifa was born in 1948 in Al Muwaiji fort, which had been built two years earlier in the date-palm groves of Al Ain on the instructions of his father, following his appointment as Ruler's Representative in the Eastern Region. He was educated at the first local school in Al Ain, which had also been established by his father.
Although he was not to be called to the ultimate office until his 57th year, responsibility came early to Sheikh Khalifa. He first entered public service on September 18, 1966, aged 18, when Sheikh Zayed became Ruler and moved to the capital. As his father was before him, he was appointed Ruler's Representative in the Eastern Region.
The young sheikh's workload grew rapidly. Three years later, on February 1, 1969, he was appointed Crown Prince; the following day, the Sandhurst-trained Sheikh Khalifa assumed the chairmanship of the Abu Dhabi Department of Defence, in which capacity he oversaw the development of the Abu Dhabi Defence Force, a forerunner of the UAE's modern military.
On November 3, the Federal Supreme Council elected Sheikh Khalifa as his father's successor. One month later, in a moving speech on his first National Day as President, he spoke of the "deep sense of sadness and bereavement that has filled our hearts over the passing of our father, leader and Founding Father of our nation".
Sheikh Zayed, he said, had "cherished a dream and devoted his life to achieving that dream, using the oil wealth to build a modern state in which both UAE nationals and resident expatriates enjoy a decent living. His deep sense of commitment to the welfare of his people enabled him to overcome the hurdles that stood in his way, ultimately succeeding in bringing the country to where it is today".
One measure of that progress, said Sheikh Khalifa, could be found in the UAE's "economic miracle", which had resulted in its gross domestic product rising from Dh6.5 billion in 1972 to more than Dh293.12bn in 2003 — a phenomenal growth rate of about 13 per cent a year since the birth of the nation.
The UAE saw none of the Arab Spring street protests that shook other parts of the region, though, in the wake of that unrest, Khalifa oversaw tightening crackdowns on Islamists and other activists, drawing criticism from international rights groups. The UAE also supported efforts in the region to quash the Muslim Brotherhood, including in Egypt.
Khalifa's personal life was not much in the public eye. Like many in the Gulf, he was passionate about the traditional sport of falconry and was said to enjoy fishing. He is known to have had eight children — two sons and six daughters — with his first wife, Sheikha Shamsa bint Suhail Al Mazrouei. He is also survived by several grandchildren.
President of Egypt, Abdel Fattah El-Sisi, has mourned the late President His Highness Sheikh Khalifa bin Zayed Al Nahyan, who passed away
In a tweet on his official Twitter account, the Egyptian President expressed his heartfelt condolences to the UAE leadership and people on this sad news and prayed to Allah Almighty to rest his soul in Paradise and to bless the UAE with continued progress.