Russia struck key Ukrainian cities in the south and east overnight, including the strategic Black Sea port of Odessa —
The Ukrainian port of Odesa has been hit by missile strikes. One person was killed and five injured when a shopping centre and a depot were hit, Ukraine's armed forces say
The Russian defence ministry confirmed the strike.:
  " high-precision sea and air-based missiles destroyed an oil refinery and three storage facilities for fuel and lubricants near the city of Odessa, from which fuel was supplied to a group of Ukrainian troops in the direction of Mykolaiv," it said.
President Zelensky warns Russia's blockade of his country's Black Sea ports threatens global food supplies
European Council President

Charles Michel

, who was forced to take shelter as he visited Odesa, warns that badly needed supplies are stuck
Thousands more civilians have died in Ukraine during the war than previously estimated, the UN human rights monitoring mission in the country says
The European Bank for Reconstruction and Development's latest forecasts are a sobering reminder of the war's economic impact on Ukraine, a significant agricultural exporter, particularly of wheat.
Russia's economy, hit by international sanctions, is expected to contract by 10% in 2022 while the Ukraine invasion is forecast to cause Ukraine's economy to shrink by 30% this year, the EBRD said Tuesday.
Elsewhere, President Joe Biden has very publicly shifted course in his quest to pass a $33 billion emergency funding package for Ukraine through Congress.
The Port of Odessa is located on the northwestern coast of the Black sea, in the southwestern end of Odesa Bay, about 150 kilometers from the Romanian border.
The modern port was opened in 1974 and is owned by the Ukrainian Sea Ports Authority. It covers 141 hectares of the land area comprising 46 berths and a total of 54 wharves, divided among its many specialized cargo handling facilities and harbors, screened off from the open sea by a few long breakwaters.
With alongside depths ranging from 7 m to 11.5 m, and a 9000 m berthing line, Odessa port can accommodate ships with a maximum LOA of 330 m, a breadth of 40 m, and a 13 m draft. Specifically, LASH vessels are handled at the refurbished Karantinny mole while the Voyennyy Mole can simultaneously accommodate six-ocean going liners.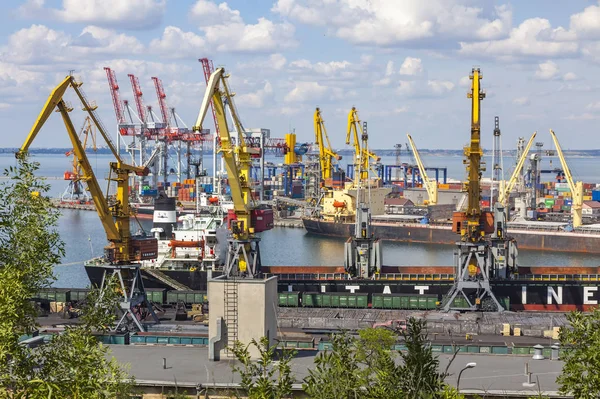 The Port of Odessa or Odessa Sea Port — located near Odessa — is the largest Ukrainian seaport and one of the largest ports in the Black Sea basin, with a total annual traffic capacity of 40 million tonnes.
Odessa's container terminal is equipped with the latest tracking system offering real-time container tracking and a fully automated scanning system thereby enabling faster processing. It can handle more than 900,000 TEU annually on its five dedicated berths capable of receiving the world's largest container ships. Container cleaning, stuffing, and stripping are other services offered by the facility.
Adjacent to the container terminal is a Special Economic Zone built on the port's quarantine pier, covering three kilometers. Also known as a free port, it became operational in 2003, to attract foreign businesses and overseas investment, create new jobs, forge strong foreign economic relations,
Oldest shipyards of Ukraine
Founded from the Admiralty Shops of the Black sea fleet a few years before the establishment of the port city, the Ukraina Shipyard covers 75,524 m2 and can accommodate vessels with a maximum displacement of up to 30,000 tonnes. It was the supporting base of the Black Sea Shipping Company during the cold war era and some of the mightiest ships of the USSR were repaired in this facility.
Major towns near a seaport
Odesa, Kryzhanivka, Usatove, Fontanka, Krasnosilka, Tayirove, Oleksandrivka, Yuzhne, Teplodar, Bilyayivka, Shabo, Zatoka, Petrivka, Ivanivka, Ochakiv, Berezanka, Starokozache, Kulevcha, Plakhtiyivka, Velyka Mykhaylivka