ِAdmiral Osama Rabie, Chairman of the Suez Canal Authority, announced today, Thursday, the success of the rescue units and the authority's tugs in salvaging and floating the 64 thousand-ton fuel tanker AFFINITY, which ran aground at the 143 kilometer, numbering 143 canal due to a technical malfunction at the ship's rudder, which caused the loss of the ability to steer and strand the ship.
Immediately after the accident, a working group was formed under the leadership of Admiral Chairman of the authority and the navigation monitors, and coordination was made with the Port Tawfiq according to a statement of Suez Canal release 
Movement Office to take the necessary measures, as 5 locomotives and the rescue department of the authority were paid to quickly deal with the situation and float the ship.
A crude oil tanker grounded in the Suez Canal in nearly the exact location as where the Ever Given grounded in March of last year. But it appears she's on the move again after about 5 hours blocking the canal.
It now appears as though she is on the move again after blocking the canal for about 5 hours:
REUTERS: NAVIGATION NORMAL IN SUEZ CANAL AFTER SHIP THAT RAN AGROUND REFLOATED – EGYPT STATE TV CITING CANAL AUTHORITY
Ever since the Ever Given's grounding, the Suez Canal Authority has been beefing up its tug fleet and working to widen portions of the Canal to allow for two-way traffic. It seems the investment on tugs paid off big time today.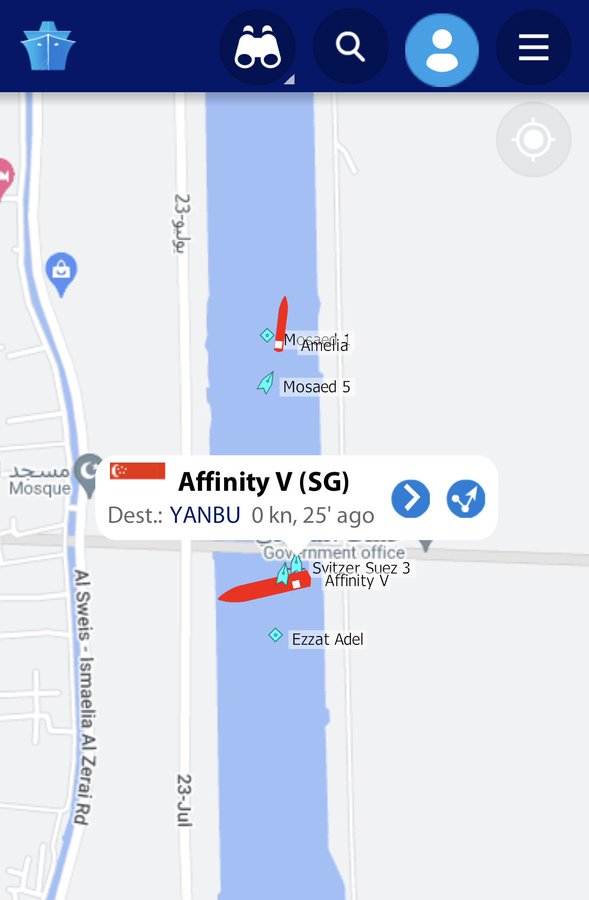 AIS data from MarineTraffic is showed crude oil tanker Affinity V was straddling the canal with its status as "Aground". The ship is in the southern end of the Canal where there is only one lane.
Crude Oil Tanker

AFFINITY V

is currently located at

RSEA – Red Sea

at position 29° 54′ 18.4″ N, 032° 32′ 42.1″ E as reported by MarineTraffic Terrestrial Automatic Identification System on 2022-09-01 02:08 UTC (5 minutes ago)
The wind in this area at that time blows from North direction at force 0 Beaufort.
The vessel departed from

SINES, PT

on 2022-08-23 17:15 LT (UTC +1) and is currently sailing at 5.7 knots with South direction heading to

YANBU, SA

with reported Estimated Time of Arrival at 2022-09-02 10:00 LT (UTC +1) local time (in 1 day, 6 hours
)
AFFINITY V (IMO: 9645401) is a

Crude Oil Tanker

that was built in 2016 (6 years ago) and is sailing under
the flag of Singapore.
It's carrying capacity is 114070 t DWT and her current draught is reported to be 11.2 meters. Her length overall (LOA) is 252.26 meters and her width is 45.04 meters.