Three new berths will be added to the port of Rotterdam this summer. There will be a new set of dolphins, and an existing set of dolphins will be drastically modified, making more transshipment space available.
Kesih van den Berg and Willem Schreij from the Port of Rotterdam Authority work closely together at the Shipping Desk. Kesih: 'The way in which we perform these operations is unique in the world.'
Kesih is the Business Manager Bulk & Cargo Shipping and has frequent contact with agencies, shippers and shipping companies. Willem is the Business Manager Ship-to-Ship Operations, the point of contact for agencies, and the product owner of the KING application, the online booking system for the buoys and dolphins.
Why this further expansion of the dolphin sets? Willem: 'From the Maasvlakte all the way to Dordrecht, the port of Rotterdam has 29 berths with buoy spans and sets of dolphins on the water.
The ships are securely anchored here, so that they can be loaded and unloaded safely. It also makes bunkering, repair jobs, waiting and cleaning safer. The buoys and dolphins are used so intensively, that we are at maximum utilisation capacity.
Besides, demand for berths is increasing. Kesih: 'This is partly due to changes in legislation and regulations on safe, clean and efficient operation handling. We also try to attract new cargo packages actively, for which we need berths as well.'
Growing demand for berths
As demand for berths was growing, Kesih and Willem made a business case for expansion. Willem: 'We spoke a lot with agencies, shipping companies and shippers; everybody needs space and is positive about the expansion.
With the high utilisation rate, we could show our organisation that buoys and dolphins were used to maximum capacity, so our expansion proposal was quickly accepted.'
'Sustainability is a key aspect,' Willem adds. 'Initially, the dolphins are intended for transhipment, but they can also be used for bunkering, repairs, cleaning and waiting. If more berths are available, vessels do not need to be shifted to open sea to wait there. A reduction of movements leads to reduced carbon emissions and saves our clients time and money.'
What does the extra set of dolphins mean for Rotterdam? Willem: 'The dolphins contribute to safety and sustainability in the port, and there is more space for LNG.
Three additional berths means that fewer vessels need to go offshore, with emission reduction and less fuel consumption as a result. These ship-to-ship operations involve many parties, such as tugs, pilots, agents, cranes and inland shipping.
The way in which we perform ship-to-ship operations in the port of Rotterdam is unique in the world
Kesih van den Berg, Business Manager Bulk & Cargo Shipping, Port of Rotterdam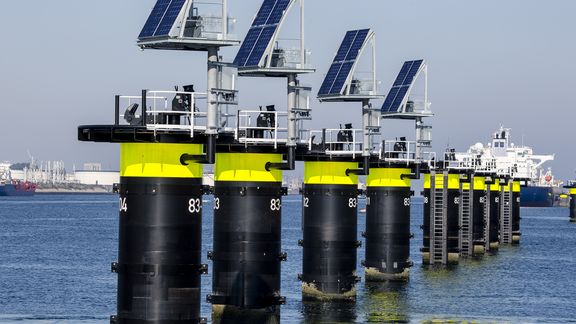 Flexible berths for large and small vessels
The new Dolphin Set 81 is planned near the Landtong Rozenburg in the Calandkanaal. Kesih: 'This location offers enough space and depth. We have opted for a so-called flexible set of buoys, which is suitable for large vessels, like VLCCs, the Very Large Crude Carriers of up to 380 metres long.
The set of buoys can also be used for two smaller vessels. Dolphin Set 82 already exists and is currently only intended for one large vessel. We are going to turn it into a flexible dolphin set, which can be used by two smaller vessels simultaneously.'
Breeding season
The first vessels can berth at the new dolphins in the autumn of 2022. This is later than planned. Kesih: 'We had arranged the business case and permits quickly, but the dolphins didn't arrive in the Netherlands in time.
Besides, the period in which we can build is limited, as we have to take the breeding season and the storm season into account. A few years ago, we installed the same kind of large dolphin on land and converted it into a watchtower. A bicycle path to the tower is in the pipeline.'
International interest
Soon there will be 31 berths in the port and this is special. Kesih: 'We are the only port in the world with this many berths of this type, which makes it unique.
Many other ports have shown interest in how we are doing this here. Off the coast of England and Denmark, transhipment takes place on open sea, with the vessel riding at anchor. We try to attract some of this cargo, because at our berths it can be transhipped safely in a sheltered port environment and without any delays.'
Developing KING and sharing knowledge
The new set of dolphins is also the last, because space in the port of Rotterdam is at a premium. Has anything else been planned for the near future? Willem: 'We continue to develop KING.
The booking application can be used by everyone to find out how much berthing space there is in the port of Rotterdam. The system is very transparent and works well. We have some ideas to make it even better and larger.
We want to investigate how we can use the platform on an even wider scale, for example by integrating berths and quays of other parties with the system, to give our clients an overall picture of the available space in the port area.'
Kesih adds: 'From the market, we are asked to develop a central system. There are several parties that have berths at quays or jetties that are hardly used, if at all. Some lease it out themselves, but others would prefer this to be centralised. Cooperation is the solution. Now that we have gained the right momentum, everything seems to come together.'
Operational
What is next? Kesih: 'Construction is already in progress, and the first dolphins will be installed between now and a few weeks. The dolphins should be operational in the third quarter. We want to make it a memorable occasion.'