After over a year locked down in New Zealand, Oyster 62 Uhuru is heading home. We caught up with her owner, James Ashwell, in Tahiti at the end of the first leg.
When we spoke, James and Uhuru were moored in a secluded bay in the South-East corner of Bora Bora, James rocking away in the hammock in the evening wind, surrounded by fairy lights after a hard day spent working on the deck.
Back in March 2020, at the start of the pandemic, James made the decision to remain in New Zealand with Uhuru, based on the deep connection he has built with her after sailing halfway around the world together.
"I couldn't leave her, whilst at the same time, I understood that the next weather window would be a year later! I didn't want to leave my boat not knowing when I could come back – she's my home, and circumnavigating on her is my current purpose. Knowing I had a year in New Zealand my approach was, well I'm here, I'm committed and I need to look after my boat. So I took her apart and completely rebuilt her."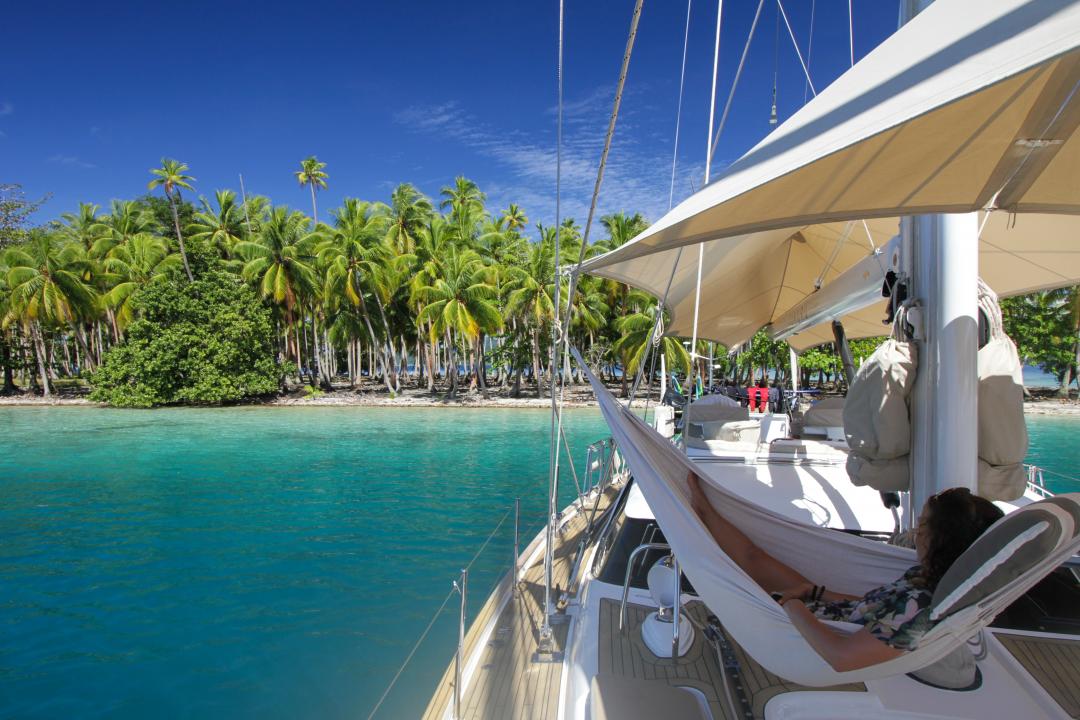 A complete refurbishment
Initially, it was just James working on his own with two crew. Then he found local contractors in Gulf Harbour, where he was living, and quickly made friends with people who wanted to help. They worked on the boat together and, in his words, became a tight family.
When he originally bought Uhuru, James did some cosmetic work but it was only after sailing her for three years he realised that this was a chance to get lots of things that you never normally get time for.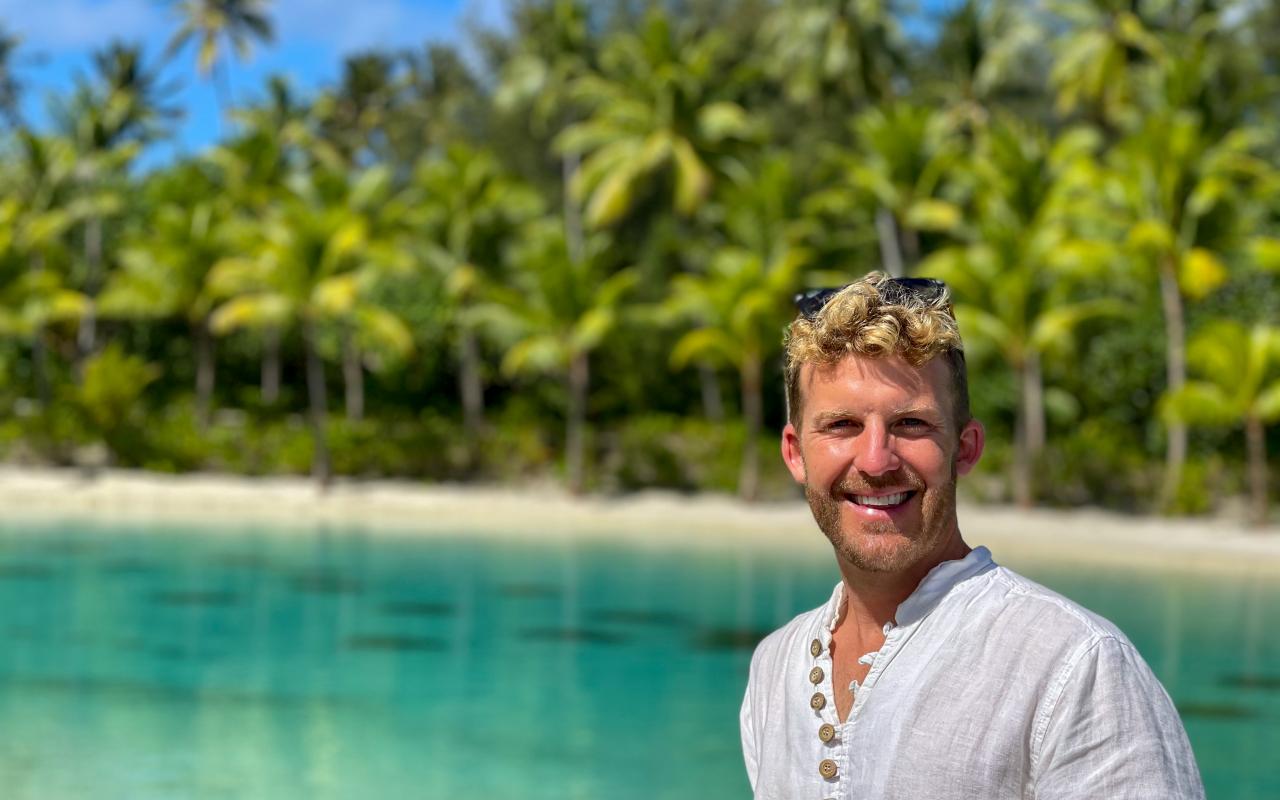 "There were 279 projects in all," explains James. "We did everything from the keel up, took the mast out and boom off, stripped them down, and rebuilt them. Every fitting, the internal floors and ceilings came out. We put in new electrics, hydraulics, and plumbing, a refurbished generator and windlass and then put everything else back. The great thing about an Oyster is pretty much everything can be refurbed so it looks new. The stainless steel is high quality, the fiber glass is thick and the teak is solid – you can work it all back to make the boat look new. When people look at her now, they think she's maybe two or three years old – it's always lovely to see the look on their faces when I tell them she was built in 2009! I'm super proud of that."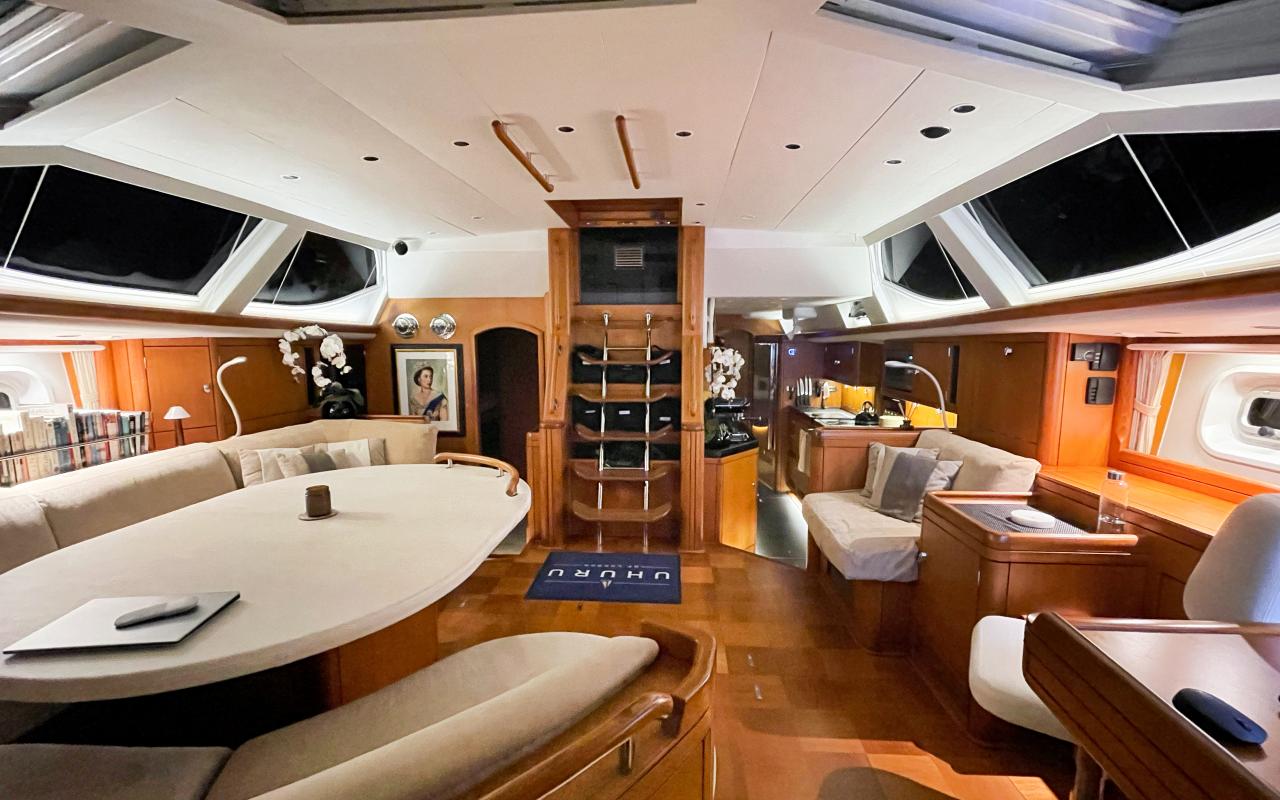 "The team at Oyster After Sales are amazing and none of this would be possible without them. They're the reason I'd buy another Oyster. I spoke to Rachel almost every day and she'd find the parts I needed. If I couldn't solve something, I'd message Eddie Scougall, Oyster's resident genius – he'd dig up drawings and tell me how to fix things. It's why I love Oyster – it's a great brand I truly believe in."

Small changes, big difference
Everything James did was focused on looking after Uhuru for the long term, as well as making her look pretty and more enjoyable to live on. There are a few everyday things that have made a huge difference.
"It sounds mad but the gamechanger was installing a dishwasher!" says James. "It uses far less water and time than washing up by hand – every time I show other Oyster owners, they want one! I also put a 20m retractable hose system inside the lazarette. Now you can have a hot shower on the transom after a dive, then wash the whole boat down bow to stern. When you finish you just give it a tug it and it disappears through a trap."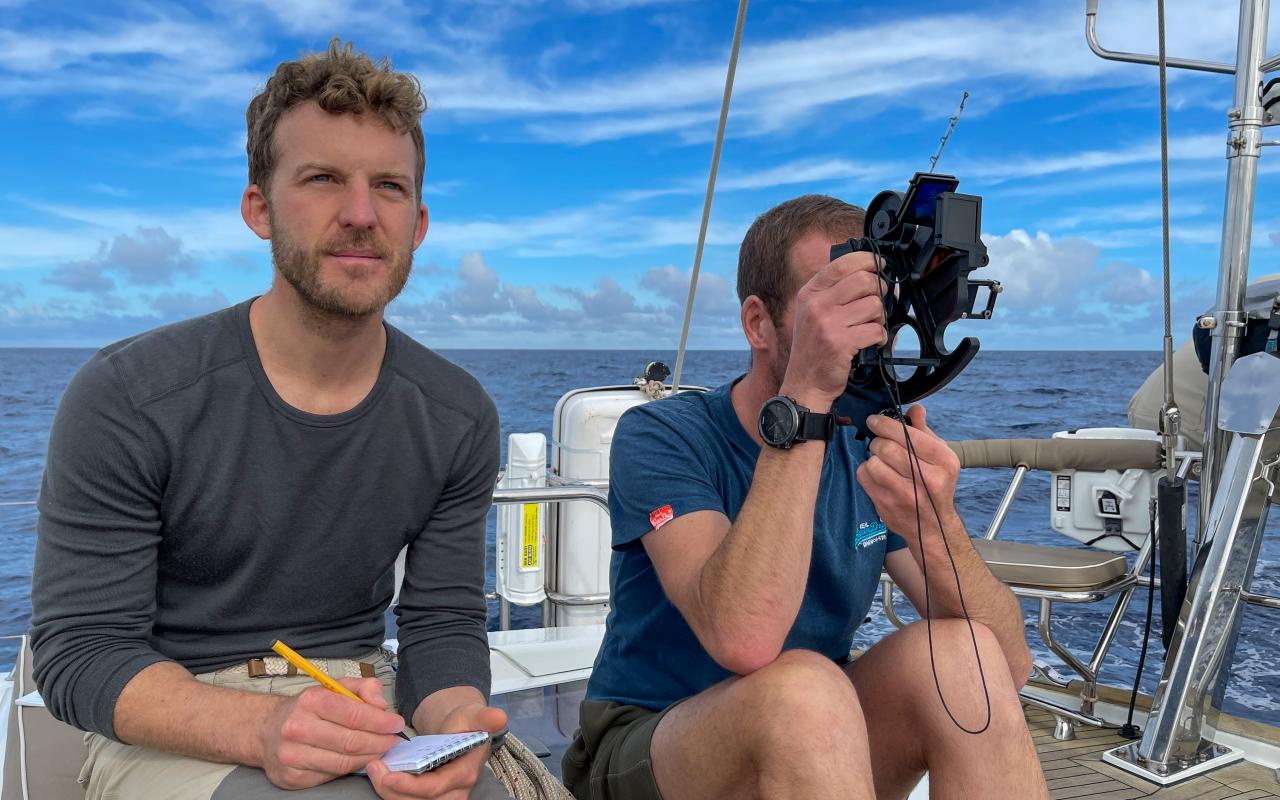 All the little changes and additions add up to make everyday life aboard much more enjoyable. Putting black mesh over all the windows has made the interior much cooler now. Installing 240-volt power in the anchor locker allows fairy lights to be strung along the length of the boat and in the evenings the crew can relax in the cockpit and watch movies. Refrigeration is notorious stress at sea, with a fridge and freezer packed with expensive supplies, therefore we fitted two backup systems so if one fails we can simply switch to the backup.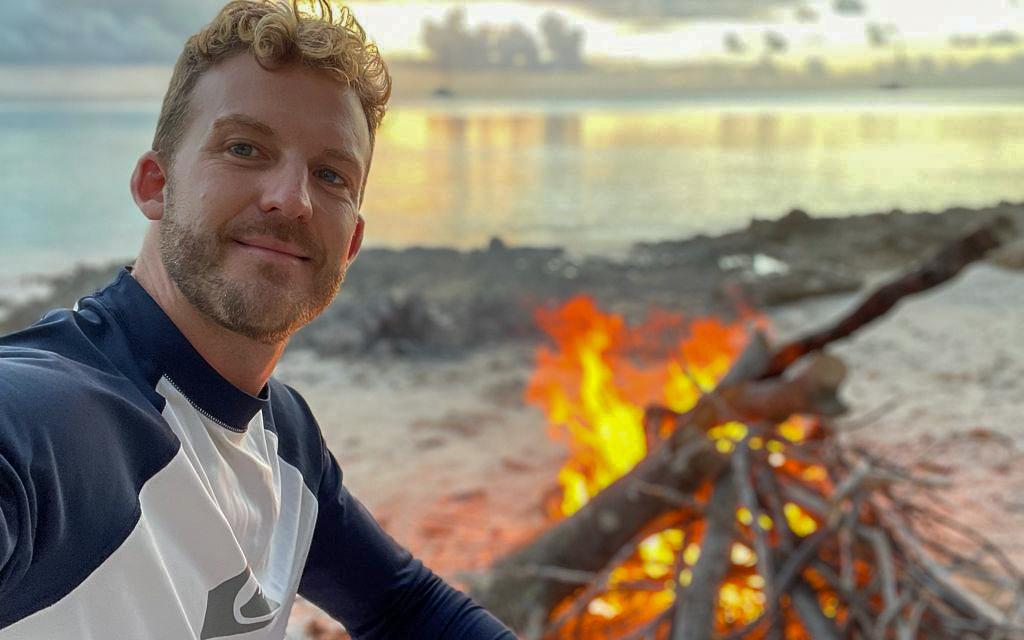 It wasn't all plain sailing – there were a few headaches along the way. The biggest challenge was finding people he could rely on. At times, James was almost ready to give up but his determination and tenacity paid off in the end and he eventually found good people to help and support him.
"I've got an incredible boat now," he says with pride. "It's been a very positive experience but like running a marathon, you don't go through it smiling yet it's incredibly rewarding when you finish."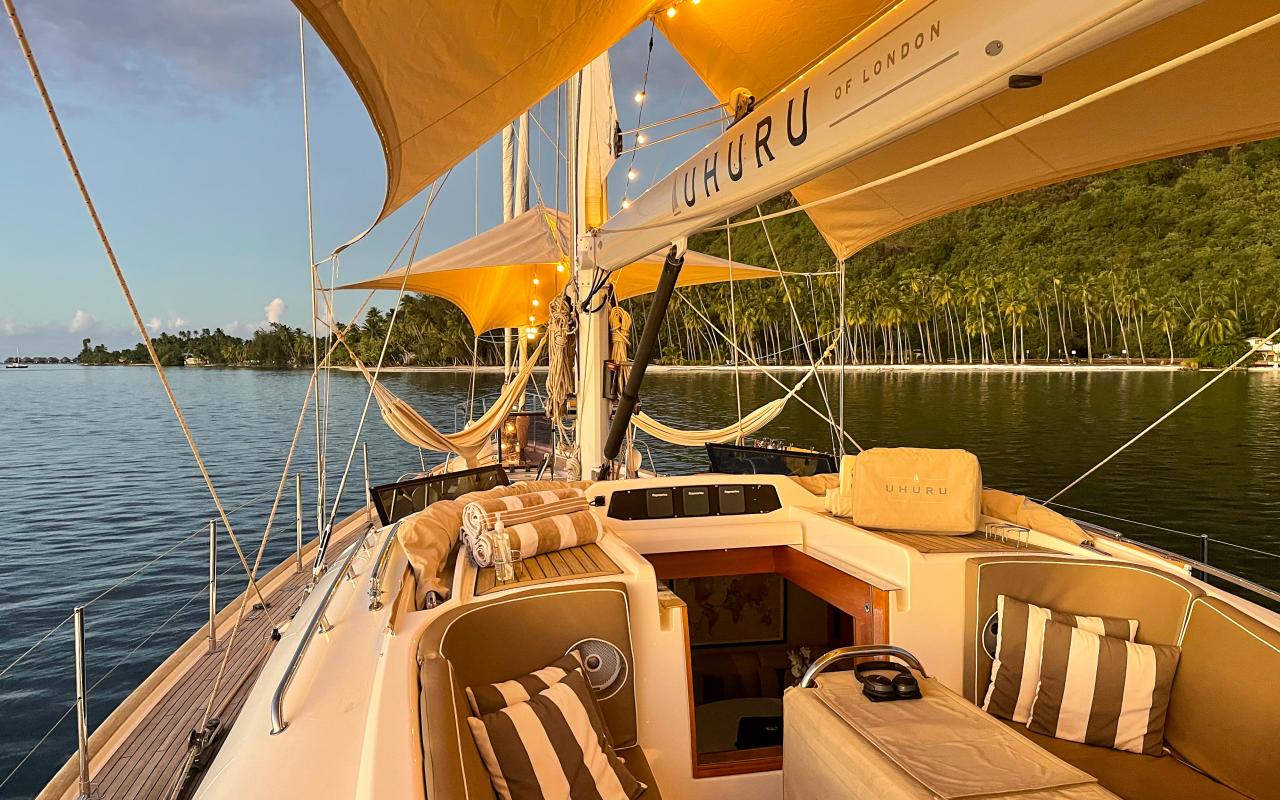 Eco-conscious provisioning
Spending so much time at sea, James is keenly aware of the threat to the oceans, so he wants to make Uhuru as eco-friendly as possible.
"We're a long way from perfect, but we're trying to reduce our impact. We built-in recycling bins, which is rare on boats of this size."
James has picked up some top tips for eco-provisioning on the way around the world. It takes a lot of prep and planning. During the refurb, he installed jerry cans in every space he could find to store products. Buying in bulk and filling the jerry cans with 75 liters of products meant they could give all plastic packaging back to the supplier before departure. They also make their own yogurt, spices, pickles, ice cream, bread, and sparkling water on board.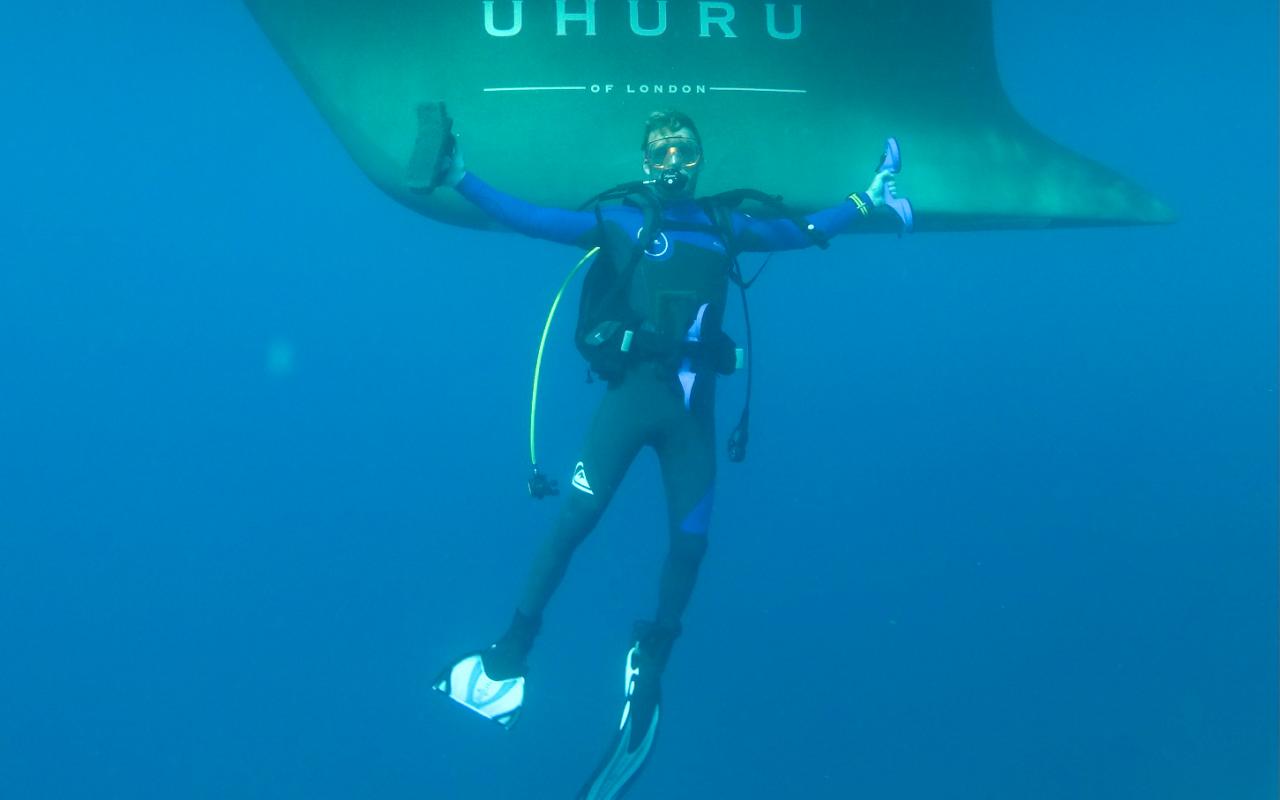 James buys eco-friendly cleaning and personal hygiene products in bulk. It's important when you have a shower, wash your hair and use your body wash, then put on the dishwasher and washing machine, you're not pumping a load of nasty chemicals into the sea.
"The aim is to get to zero waste," James says. "Waste audits are really important too when you get to your destination. How much waste plastic, glass, and cardboard is there? How can we use less or avoid having it onboard in the first place?"
Effective provisioning for long passages
James and the crew learned a lot about provisioning from their first expeditions. For their escape passage from New Zealand to Tahiti, there were seven crew and their families and friends all turned up with loads of home-cooked food – cookies, curries, fish pies, and lasagne. One couple agreed to cook to pay for their passage to Tahiti, they cooked 120 meals!
"We didn't really have to cook for most of the passage," laughs James. "All we did was eat, eat, eat!"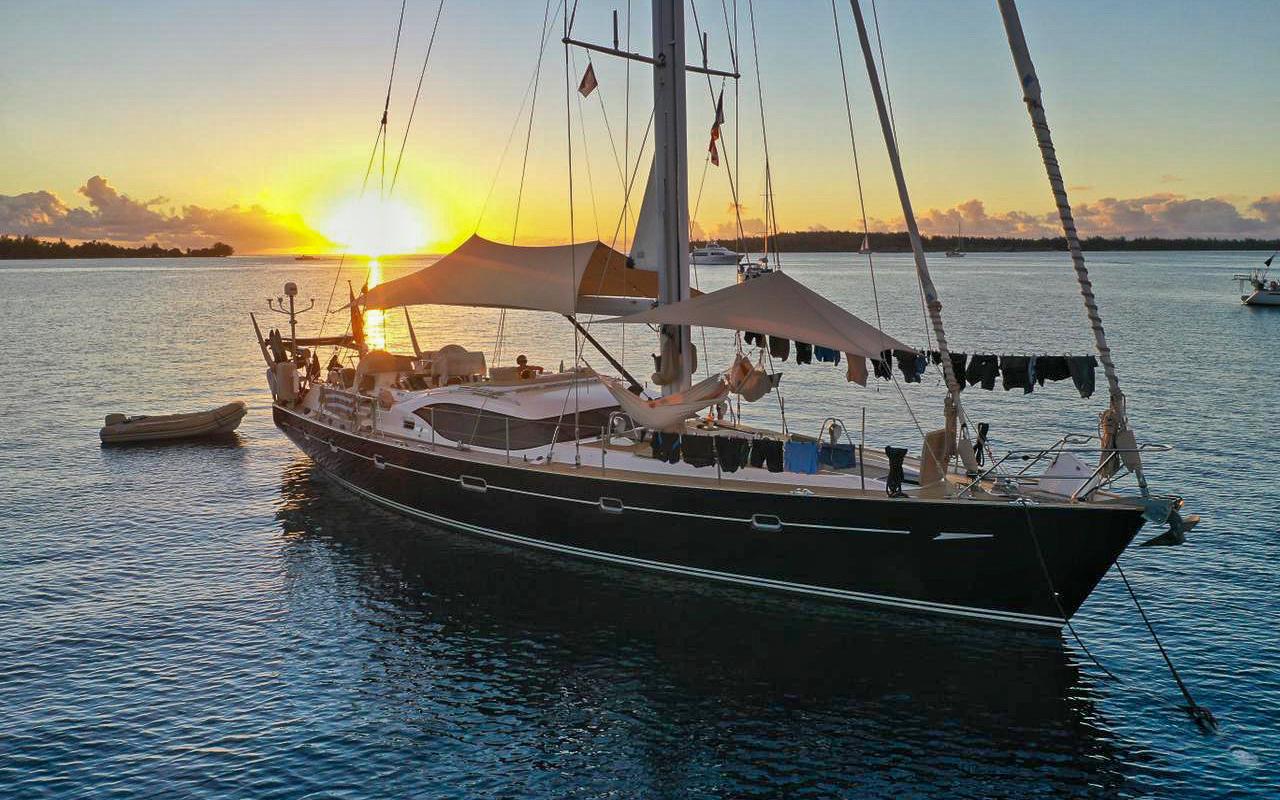 Planning an escape
Escaping from New Zealand at the end of lockdown wasn't straightforward as James hoped. The plan was to sail from Auckland to either Fiji or Tahiti but with the world changing so quickly because of the pandemic, it was impossible to rely on a single plan. So James formulated three, all aimed at getting Uhuru to Fiji or Tahiti. Just a week before they left, Fiji went into lockdown while French Polynesia granted Uhuru access to their maritime waters, making the decision straightforward. James had hoped to fly home to see his family while his crew sailed Uhuru to Tahiti, where he planned to rejoin them. But travel restrictions meant it wasn't possible to get to the UK and back, so he sailed the 2,700 miles to Tahiti instead.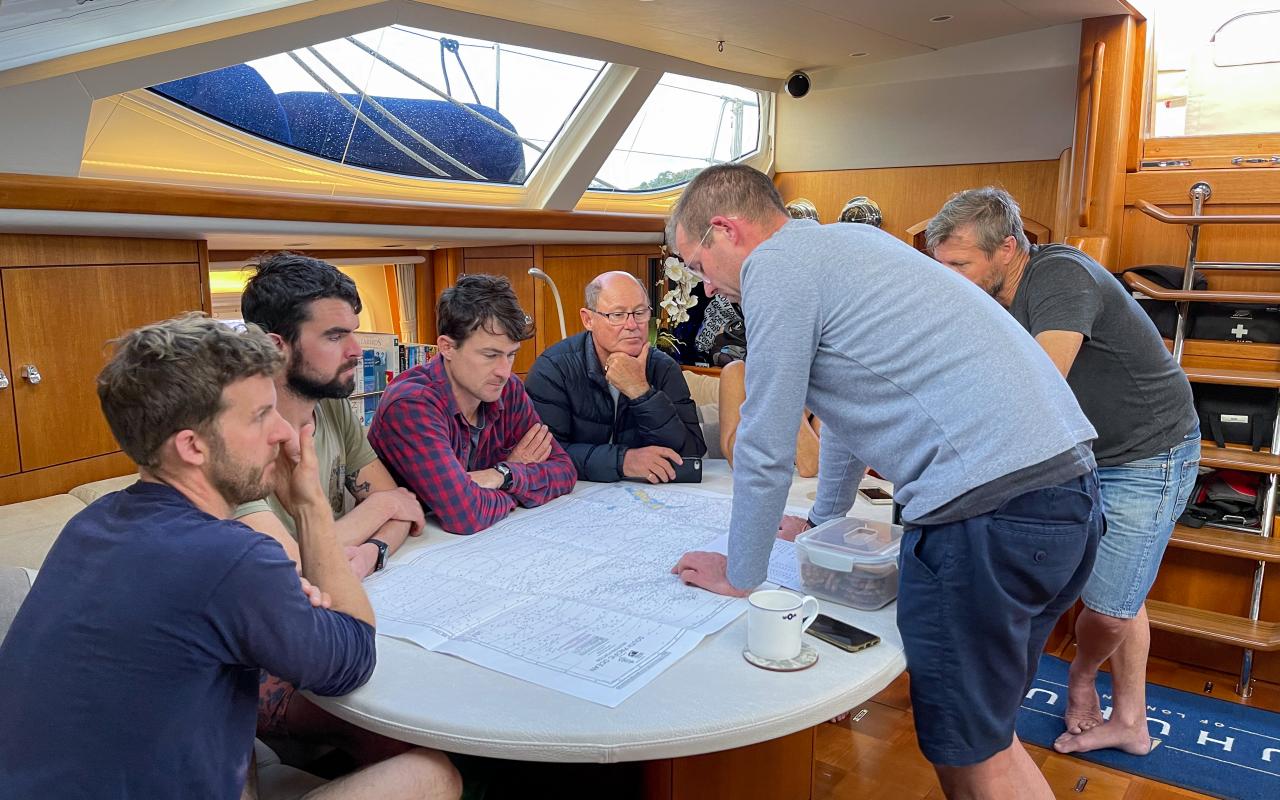 He sailed with his friend James Mortimer, who had spent six months working on the boat in New Zealand with him, along with a crew of five others. This was made up of two couples who had bought boats in Tahiti and couldn't find another way to get there, plus one of their crew. Uhuru is spacious enough to take all these people with ease and James describes the passage as magical – every three-hour watch was followed by 18 hours off!
A challenging passage
The Southern Ocean's fearsome reputation is well-founded, with persistent gale-force winds throughout the year in the Roaring Forties and Furious Fifties, along with complex current systems. Although not needing to head quite as far south as is often required for this passage James felt they got a good taste of what the Southern Ocean has to offer, crossing North to South and back again.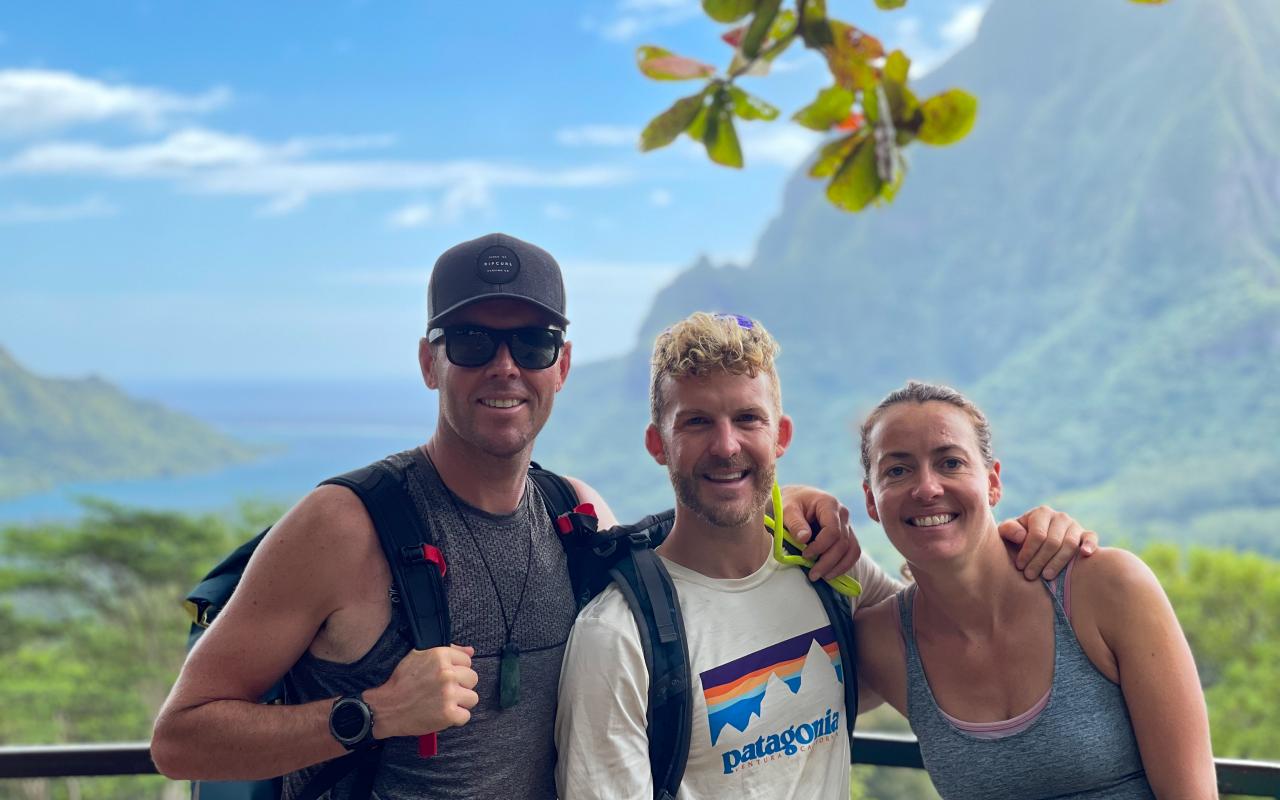 "For most circumnavigators, one of their passages of most concern is Fiji to New Zealand. When I set off, I'd sailed over 20,000 miles around the world but mostly downwind in tropical weather. Suddenly you're heading down into weather systems other than Tradewinds or downwind sailing on a seven day passage.
"Coming back from New Zealand to Tahiti is 15 to 20 days sailing between 2,500 and 3,000 miles. 80% of the time you're going due East at relatively high latitudes. The weather forecasts are accurate for five days so you're sailing into the unknown after that. All you know is it's the Southern Ocean approaching winter and you're going to get bashed around. It's a pretty scary experience. Uhuru just ploughed on through the waves – everyone onboard was amazed, she's such an incredible boat!"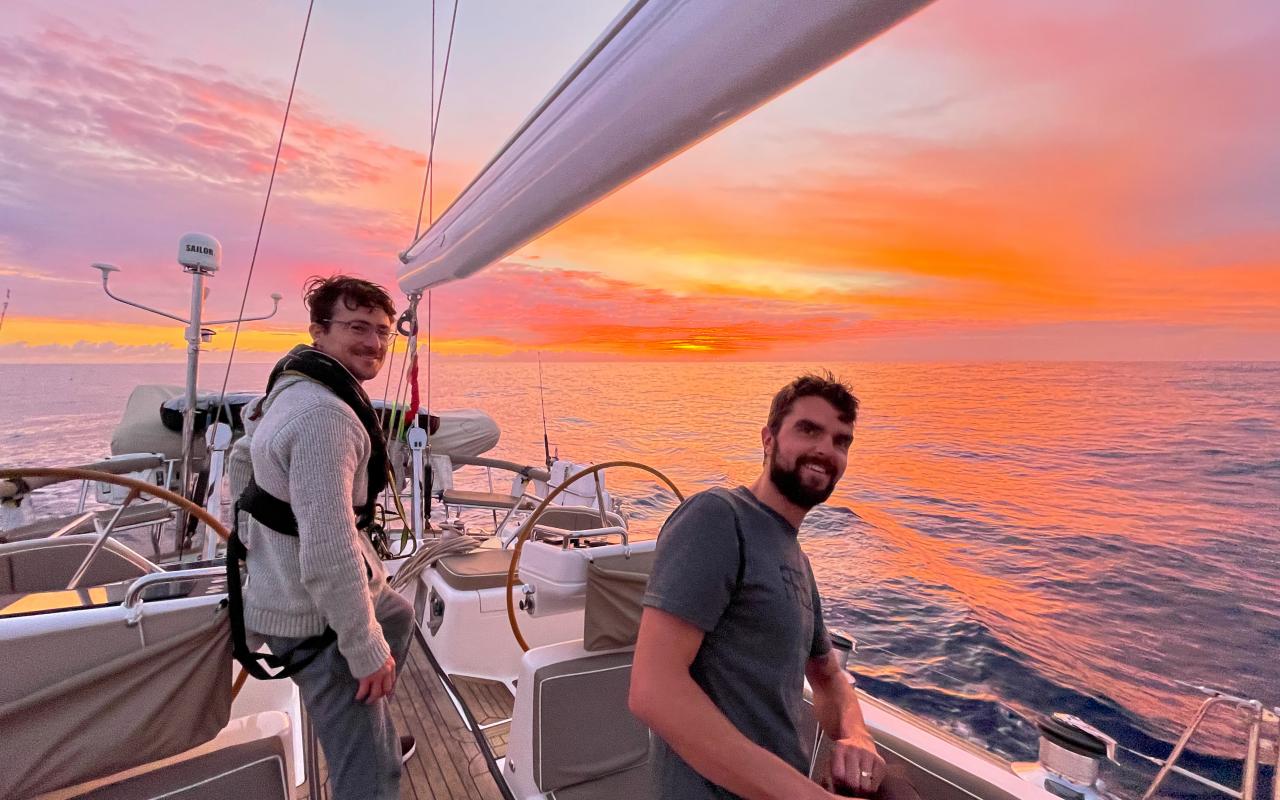 Accidents
James has sailed over 25,000 miles without any accidents. Like all sailors, his biggest nightmare is man overboard somewhere remote, so safety procedures were always front of mind. The crew were always clipped in on deck at night and mindful of the potential for accidents. One night James woke to hear someone shouting for help. He dragged himself out of his cabin, half asleep, thinking someone had fallen overboard.
"It turned out one of our crew was suffering from extreme seasickness, which was pretty serious. Luckily, we have a big medical kit, so we worked out the best options to help her and thankfully she recovered after a couple of days."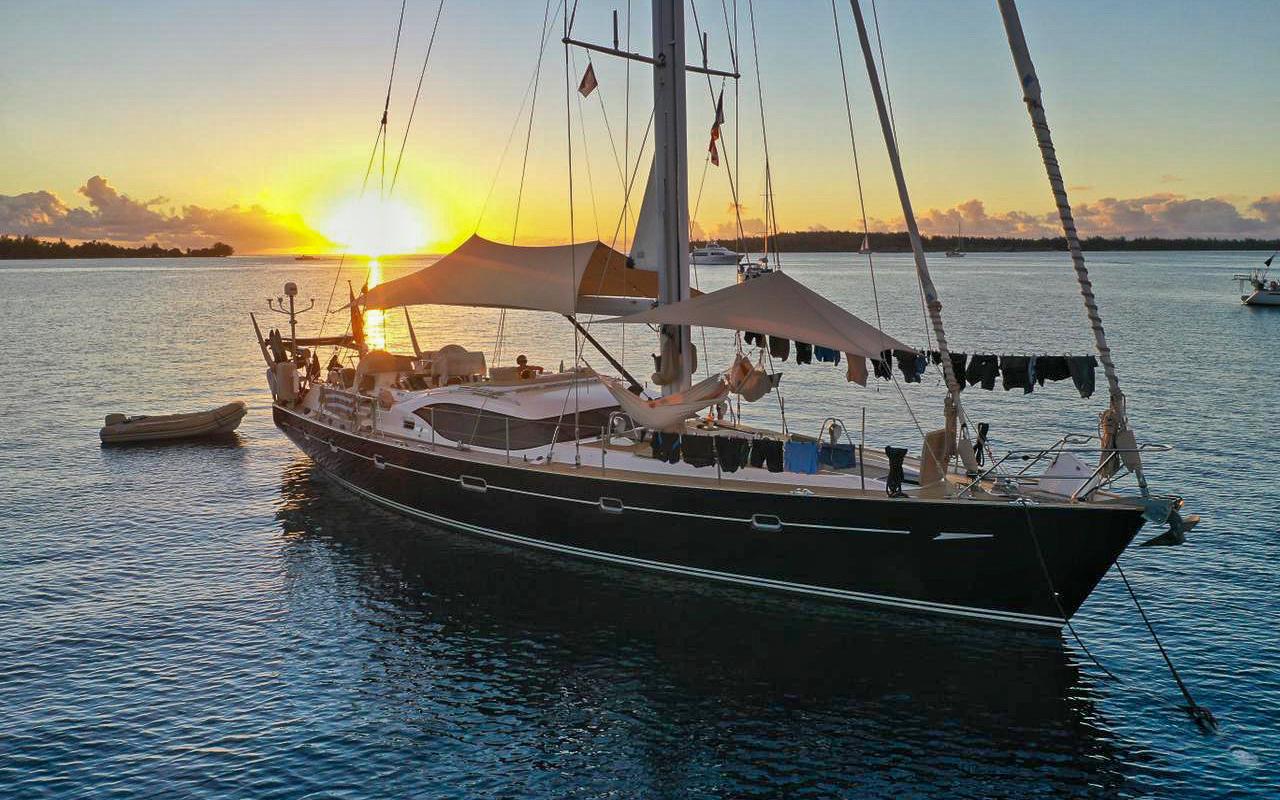 The only other major problem was the fridge breaking loose in a storm. During the refurb, James removed it to fit a double refrigeration system with two compressors as a backup. But it wasn't refitted properly, so we found 400 kg of fridge sliding around the galley. James had to brace himself against it to hold it in place until someone managed to secure it temporarily – no easy task in a yacht that is being thrown around in winds and rough seas.
"Our other big challenge was deciding the best time to steer North," says James. "The aim is to head East for as long as possible, then turn and fly up North. We had constant debates about the best time to turn – James (Mortimer) kept holding off, knowing that if you turn too soon you end up sailing directly into the Easterly Tradewinds, which is a disaster.
"When you get it right, you rapidly go from dressing in full thermals to shorts and swimming overboard in 26 degrees," says James. "It's a dramatic shift and a huge relief after 10 days being thrown around by cold waters!"
Discovering paradise
Not surprisingly, Tahiti has been worth every minute of challenging sailing.
"We've been here a month and Bora Bora is unbelievably beautiful. On Tahiti Island, we climbed 2,600m up Mont 'Orohena. We've been diving off the boat too – seeing corals and sharks under the keel whenever you feel like it is amazing. I've also been catching up with friends visiting, which is great after being alone for a year and a half. People advised us not to come here during the pandemic but we've made so many friends. A local shopkeeper took us out in his boat to Blue Heaven Island at the weekend. We went spearfishing, collected clams with his daughter, and spent the day on the beach together. They're just such kind, wonderful people."
James has a long bucket list to tick off while Uhuru is in Tahiti. Two much-anticipated highlights are swimming with humpbacked whales and visiting Maupiti, West of Bora Bora – a little-visited island that has a reputation for being the Polynesia of old.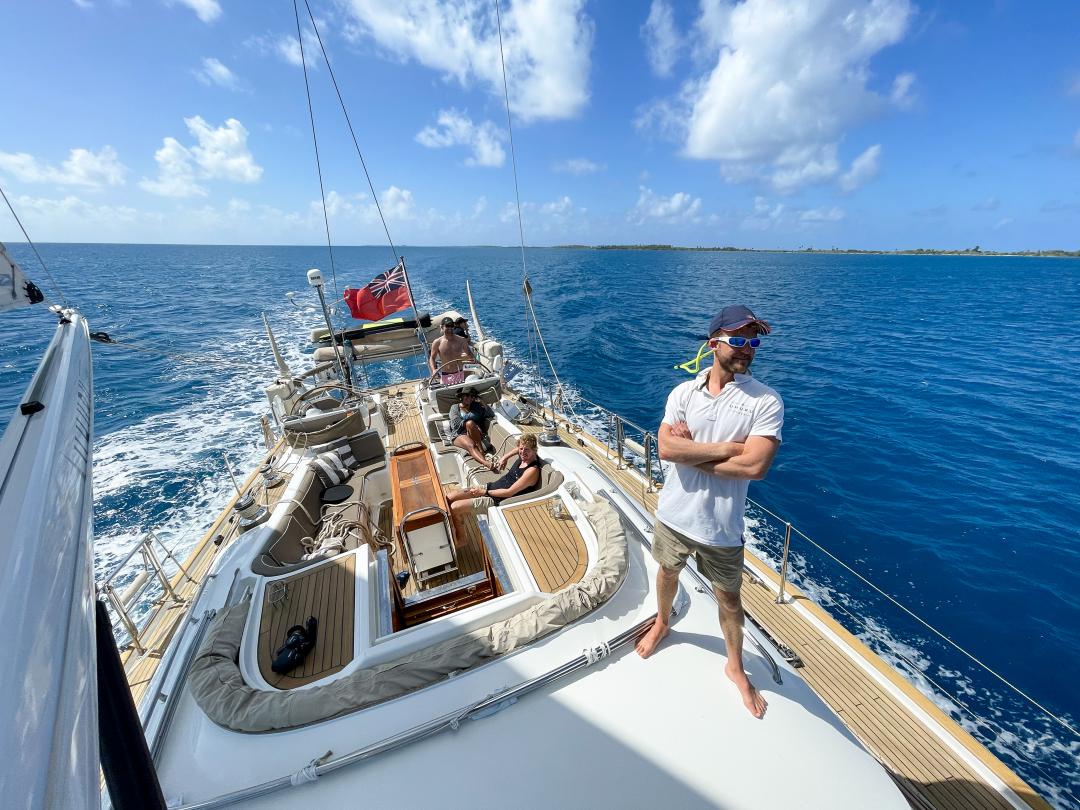 A life-changing journey
None of the beauty of the place is lost on James and he's clear-sighted about what a privilege it is to be on this journey.
"I'm a bit childlike about it all – the sea, the sky, the beaches," he says. "I get to enjoy and appreciate all this beauty every day. I needed to change my life and this has been a really amazing way to do it. It's hard to walk away from 'normal life. When you tell people you're going to spend ten years living on the sea, they think you're crazy. Other sailors I know feel the same as I do. But it's been enormously healing. And I think the pandemic has forced a real shift in people's thinking. Lots of my friends who have always been career-focused want to come out and spend time on the boat – they've seen the light!"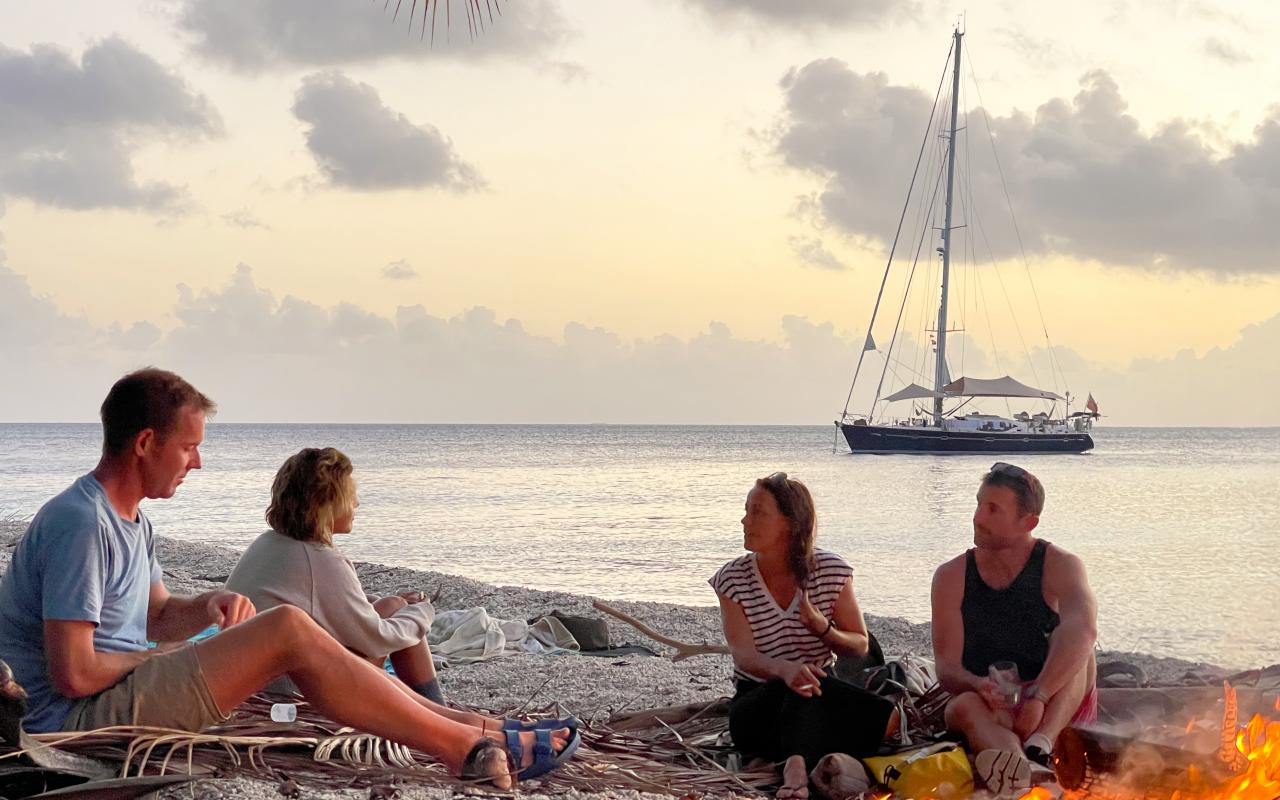 Where next?
James and Uhuru will spend the next year in Tahiti. The cyclone season starts in November and almost every South Pacific island nation is closed due to Covid. He and the crew have long-stay visas and, as he says, it's not a bad place to wait for the cyclone season to end in April. In the meantime, as well as exploring the islands, the time will be spent working on the boat and training his friend from home, Katie Mountain, to be first mate and deckhand. Chef Dan Green will also be trained up too. Once travel restrictions ease, a couple of other friends from home will join Uhuru as she sets off on the next leg of their round-the-world adventure.