Maritimtime informed: Larry Anderson
For most of maritime history, wind power drove vessels all over the world; that is until steam and other forms of propulsion came on the scene in the mid-1800s. Now in the 21st century, given a renewed interest in preserving the environment and lowering costs, wind power is on the verge of making a comeback.
The latest technologies, including big data and computer simulations, are helping to drive a renewed interest in maritime vessels propelled by wind, with a 90% reduction in the use of fossil fuels among the sustainability benefits of resurrecting the use of wind to power commercial vessels.
Wind-powered maritime vessels
The new generation of wind-powered maritime vessels will look nothing like the sailing ships of old. Rather, they incorporate a variety of modern approaches to harnessing wind power and channeling it into dependable cargo transportation. These large-scale vessels will be adaptable to changing weather conditions.
A new generation of wind-powered maritime vessels will be adaptable to changing weather conditions
For example, Swedish company Wallenius Marine is developing the Oceanbird, a 200-meter-long cargo ship with wing sails towering 105 meters high and offering enough capacity to carry 7,000 cars across the Atlantic in 14 days (compared to eight days for a fuel-powered ship).
The vessel, which could be in service by 2024, would lower operating costs, especially if governments impose a price on carbon emissions to curb the use of fuel.
90% fewer carbon emissions
Although the Oceanbird will have an engine as a backup, carbon emissions of the wind-driven ship will be 90% lower, and the vessel could also be used as a cruise vessel, bulk carrier, or tanker, instead of transporting cars or farm machinery. The first vessel from the Oceanbird concept will be a specially designed car carrier, but the other segments, as well as retrofits on existing vessels, are being evaluated.
Wallenius and marine manufacturer Alfa Laval have formed a 50/50 joint venture – AlfaWall Oceanbird – that will supply wind propulsion solutions for cargo vessels and other ship types. The agreement, signed in June 2021, includes a plan is to have the first Oceanbird system onboard a vessel within five years.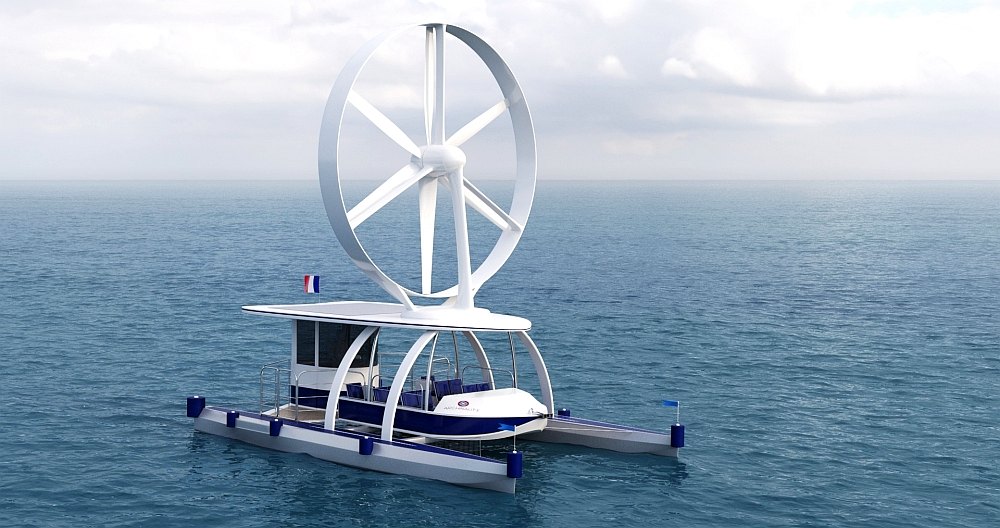 Transition to wind
Technologies such as wing sails and tougher, lighter materials developed for racing yachts are making it possible to implement a broader transition to wind power. The Oceanbird's "sails," likely made of aluminum, steel, and compositive materials will leverage wind changes at new heights above the sea surface.
Also making new approaches to wind power more feasible are longer-term weather forecasts, improved route planning, and computer simulations to better manage the variables of nature. Computer data helps to drive the ship, but humans onboard augment the data with real-world experience.
Clean and renewable energy-based industry
The accepted proposal is the result of a strong mobilization of the shipbuilding industry in the region
Another company, Neoline, Nantes, France, is also working on a sailing cargo ship. Theirs is a 136-meter vessel suitable for transporting cars or farm machinery. It can also reduce carbon emissions by 90%. The design provides maritime transport based on the operation of roll-on/roll-off cargo ships with a main relic propulsion system.
Neoline has chosen Neopolia Mobility, Loire, France, to construct its first sailing cargo ship. Neopolitan Mobility emerged from a call for tenders as being the best able to combine Neoline's technical requirements, budgetary and time constraints, and a desire to participate in the development of the Loire region. The accepted proposal is the result of a strong mobilization of the shipbuilding industry in the region and reflects a capacity of adaptation and a strong will to develop a future industry based on clean and renewable energy, the wind.
New technologies
The International Maritime Organisation seeks to reduce climate-changing emissions by half by 2050, compared to 2008 levels. Given the expected 30-year lifespan of ships, vessels manufactured in the next several years will still be in service in 2050 and contribute to lowering emissions.
Given the strict scheduling of the international shipping industry, wind-powered vessels will need to adapt to variable conditions and still be able to deliver dependable and timely service. Right around the corner, new technologies will allow wind-powered ships of the near future to do just that.