Fire erupted on board of Gremyashchiy-class corvette PROVORNYI in dry dock under construction at Severnaya Verf Shipyard in St. Petersburg, Russia, on the evening of Dec 17. Fire is said to be major, covering some 80 sq meters, with gas cylinders nearby, major explosion feared. Some 170 firefighters and 42 engines are deployed. The ship is unmanned, at least 3 people were injured, one was hospitalized in serious condition. The fire broke out on an upper deck. PROVORNYI was to be commissioned in late 2022.
The Provorny (Agile) corvette being built at the Severnaya Verf (Northern Shipyard) was completely engulfed by flames, and nearly 170 firefighters were taking part in efforts to extinguish the blaze that sent massive plumes of smoke over Russia's second-largest city.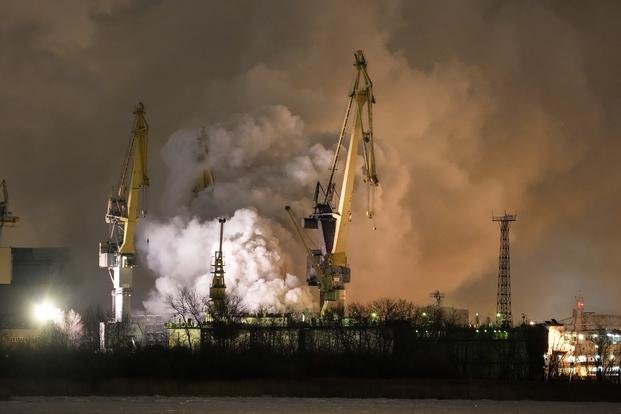 Gremyashchiy-class corvette PROVORNYI, displacement 2500 ton, guided missile corvette, speed 27 knots, armament missiles, guns, torpedoes, helicopter.
An official panel has been created to investigate the cause of the fire, which wasn't immediately known.
The corvette is the latest in a series of such ships built at the shipyard. It was set to be commissioned by the Navy late next year.
New FleetMon Vessel Safety Risk Reports Available: https://www.fleetmon.com/services/vessel-risk-rating/