Government News
Italy Seizes Record 2 Tons of Cocaine Floating in the Mediterranean
Italy is reporting a record drug seizure found off the coast of Sicily that is also highlighting a tactic increasingly being used by smugglers. Two tons of cocaine with an estimated street value of over $450 million was found floating in the Mediterranean.
The Guardia di Finanza reports that a large floating object was identified during routine patrols of the eastern coast of Sicily. A naval air unit identified "numerous floating packages" along with a luminous signaling device. They are speculating the device was included in the package to permit tracking/
A special unit of the police from Catania was activated and sent to investigate the packages. They found a total of 70 bundles containing 1,600 packages of cocaine. Each of the bundles was neatly wrapped and then strung together with netting. They believe the packaging was designed to keep the bundles dry but not to add excess weight. Pictures show that along with the netting, there were life jackets attached to the large bundle, in theory, to ensure it did not sink.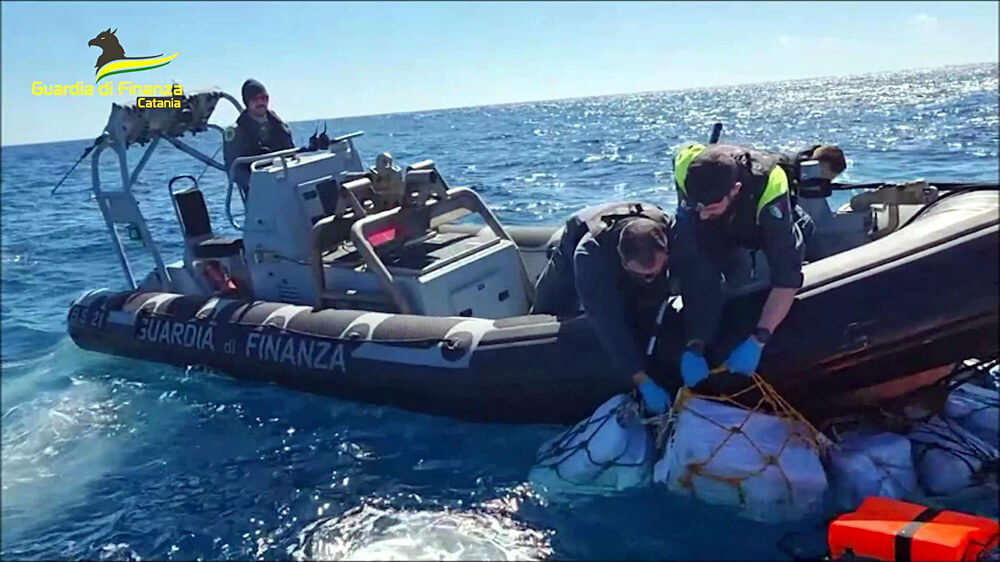 The police boat retried the package and additional air reconnaissance was conducted to see if any further packages could be found in the region. They were also checking to make sure nothing had broken away from the main unit.
The police are theorizing that the floating package was left by a cargo ship sailing along the coast of Sicily. Smaller boats from shore were likely planned to come out and retrieve the packages.
Italian police are calling it one of the single largest seizures ever carried out in their national territory. Reuters is citing a government report that said for all of 2021 Italy seized 20 tons of cocaine. The report says cocaine seizures have increased five-fold since 2018 when they confiscated 3.8 tons. Italy is said to be a prime route for the entry of narcotics into Europe with the report citing Bulgarian criminal gangs behind the traffic.
The New Zealand Defence Force in February 2023 revealed a large operation in which they had discovered 81 bales of cocaine floating in the Pacific. They reported retrieving 3 tons of cocaine with an estimated value of $316 million and like the Italians said they believed it was left in the ocean by a passing cargo ship. New Zealand authorities said they had been working with international agencies to identify and monitor "suspicious vessels' movements."