Fort Lauderdale International Boat Show (FLIBS) October 26, 2022 – October 30, 2022
From 28 September to 2 October, the 60m full custom MY Lusine's presence will grace the dock in front of the stand. She will be a showstopper with exterior lines by Frank Laupman of Omega Architects and interiors by Sinot Yacht Architecture and Design.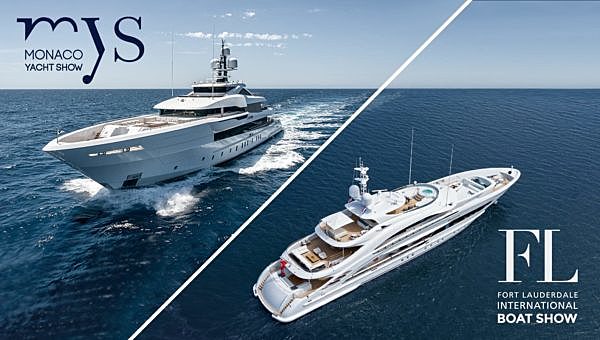 YN 19360, MY Lusine is the largest steel yacht built by Heesen to date and has the most intricate interior ever crafted by our in-house team of fine-cabinet makers.
"This very large and complex project was both a challenge and an inspiration." Commented shipyard CCO Friso Visser.

"The market is evolving, and we are ready to meet that demand. Lusine beautifully exemplifies how Heesen meets the requests of experienced clients who want to create a statement yacht."
On 26-30 October, at the 67th edition of the Fort Lauderdale International Boat Show, Heesen will display the latest in the 50m Steel displacement Series, the magnificent YN 19650 Project Aura with exterior lines by Clifford Denn and interior design by Reymond Langton.
The season will kick off with the annual press and influencer breakfast at the Hotel Hermitage. Arthur Brouwer, our CEO, will share his view on the current market situation and give an update on the shipyard's evolution. Heesen's popular chat show, YachtTalk, will be live from the press conference stage. Charlotte Kan, our host, will discuss with Friso Visser, our CCO, Heesen's unique commercial proposition and present a new design concept.
"We look forward to meeting with clients, brokers, captains and press to share the energy and excitement of the boat shows in both Monaco and Fort Lauderdale. Yachting is a people industry, and we can't wait to celebrate our new ventures, as well as share the current course of our company, during this milestone year for Heesen." comments Arthur Brouwer.
Since 2021, Heesen's new stand is located at the heart of the Monaco Yacht Show, on the Appontement Jules Soccal JS09, the area dedicated to the Superyacht Builders Association (SYBASS).
Fort Lauderdale INTERNATIONAL Boat Show
The Fort Lauderdale Boat Show, FLIBS, is the largest in-water boat show on Earth! Worth Avenue Yachts is pleased to be a part of FLIBS 2022.
The 'yachting capital of the world' comes to life once again as the prestigious Fort Lauderdale International Boat Show opens its doors for the 63rd edition.
Scheduled to showcase more than $4 billion worth of yachts and nautical merchandise, the Fort Lauderdale International Boat Show, or FLIBS for short, prepares to open once again at the end of October as an ideal opportunity to view and buy some of the latest innovative products in yachting.
Now on its 63rd edition, the esteemed show is no longer just about viewing yachts, but bringing a community together and engaging in a high-flying social scene throughout the five-day event
Spread over seven locations around Fort Lauderdale, a seamless transport network escorts visitors through all of the available exhibits which display an extensive selection of yachts including flybridges, sailing boats, superyachts, tenders, water toys and naturally luxury charter yachts.
Annually attracting around 100,000 visitors Fort Lauderdale is the biggest on-water boat show in the world and it certainly delivers to that caliber.
With over six miles of floating docks and around 1,200 exhibitors due to attend, there's plenty to see and do throughout the event plus ongoing entertainment around the seven locations such as live music, cocktail parties and live demonstrations.