Yacht Harbour › Ferretti Yachts 780 Club B Launched at Cattolica Shipyard
A new build of the Ferretti Yachts 780, commissioned by a Maltese owner, has been launched at the Cattolica shipyard. This happened less than three weeks after the stoppage caused by a fire onboard a yacht under construction.
Ferretti Yachts 780 Club B is the result of collaboration between the Strategic Product Committee led by Mr. Piero Ferrari, the Ferretti Group Engineering Department, and Ideaeitalia for the interior design. She became the 36 hulls of the successful Ferretti Yachts 780 model.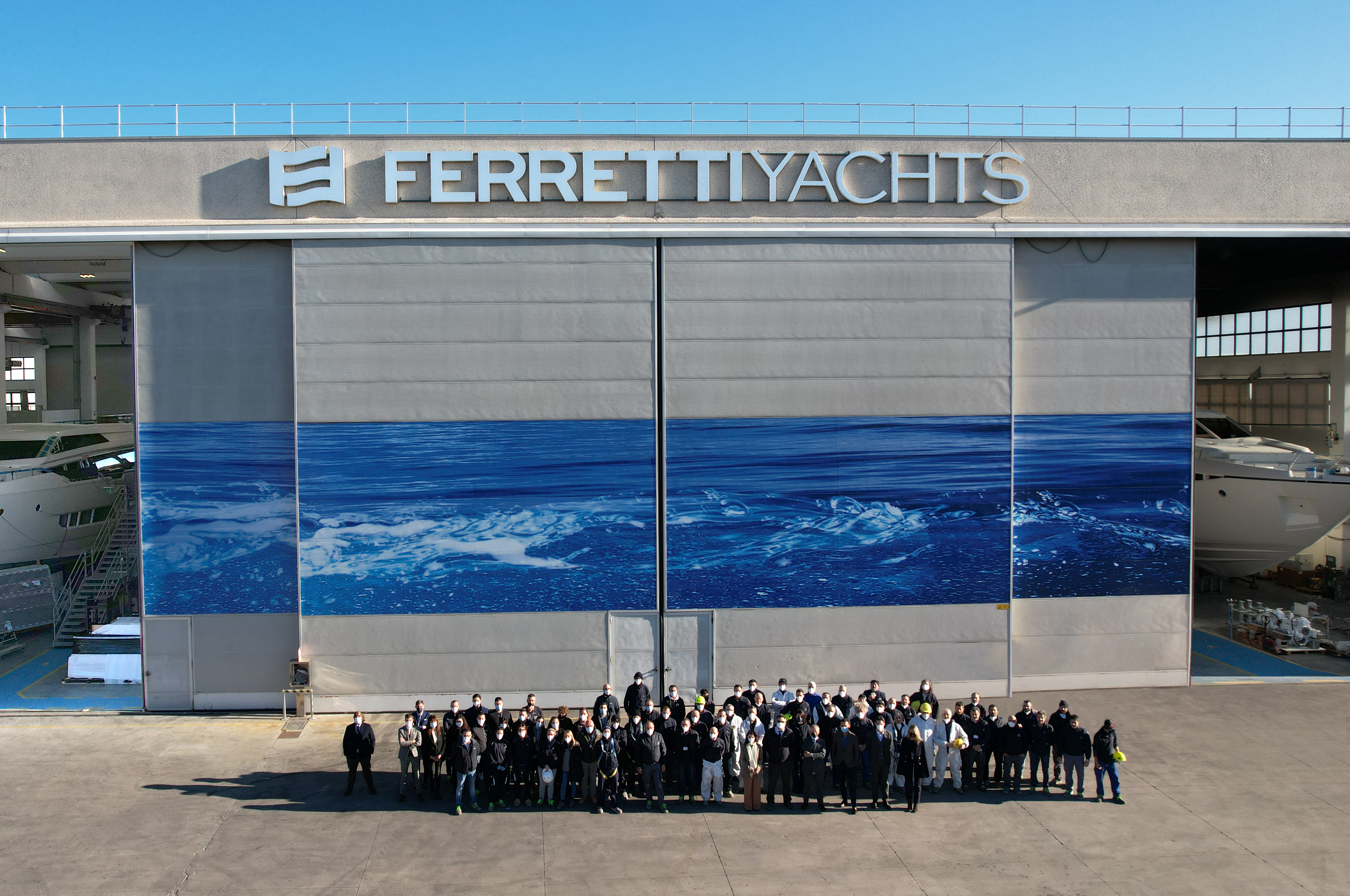 Produced in the Classic version, with warm, traditional colors evoking Ischia, the new yacht features walnut and brushed oak, helping to create an inviting atmosphere, and furnishings graced by Carrara marble. In the outdoor area, sofas from the custom collection designed by Roda exclusively for Ferretti Yachts create a convivial atmosphere in perfect harmony with an authentic nautical style.
"At Cattolica, speed and quality go hand in hand. It is fantastic to see the Shipyard get back to full operational capacity in such a short time.

I will never be able to adequately praise or thank all the people in the area and at Ferretti Yachts who have worked tirelessly to get us back to doing what we are famous for around the world: building and delivering dream yachts to our customers.

Our thanks once again to the Municipal Administration and all the local authorities in this fantastic area," commented Alberto Galassi, Ferretti Group CEO. "The launch of this Ferretti Yachts 780 CLUB B marks the return to our extraordinary normality.

A few days from now we will also be launching a Ferretti Yachts 1000, our spectacular flagship, making it clear that the Cattolica Shipyard is more active and stronger than ever, ready to mark 2022 with many more magnificent projects."
The Ferretti Group, led by Chief Executive Officer Alberto Galassi, is now one of the world's leaders in the construction and sale of luxury yachts and pleasure vessels, with a unique portfolio of brands: Ferretti Yachts, Riva, Pershing, Itama, Mochi Craft, CRN, Custom Line and Wally.
Credits: Ferretti Group