The Company Presented a Livestream Awards Celebration Honoring the 100 Norwegian's Giving Joy Winners Hosted by Teenage Entrepreneur and CEO Mikaila Ulmer
Norwegian Cruise Line (NCL), the innovator in global cruise travel, awarded 100 free cruises to 100 teachers across the U.S. and Canada, as well as thousands of dollars to the schools of the top three Grand Prize winners as part of the Norwegian's Giving Joy™ campaign
The month-long campaign, which launched during National Teacher Appreciation Week (May 3 – 7, 2021), recognized deserving educators for their unwavering commitment to bringing joy to the classroom. To celebrate these incredible individuals, and their often-times undervalued profession, as well as kick off the start to a new school year, Norwegian Cruise Line hosted a Livestream awards celebration hosted by teenage entrepreneur Mikaila Ulmer, founder, and CEO of Me and the Bees Lemonade.

Ulmer is also the founder of Healthy Hive Foundation, which further educates the public and supports the mission of protecting bees and the important role they play in the world's ecosystem. Her tenacious pursuit of knowledge, curiosity, and enterprising attitude has also driven her to pursue her literary career, launching her first book "Bee Fearless, Dream Like A Kid." She has also been invited to speak at prestigious gatherings including the United State of Women Summit where she introduced former U.S. President Barack Obama.
During the 45-minute virtual awards event, Ulmer highlighted the important role teachers around the world play in the lives of their students and communities and reinforced the power of travel and exploration as an immersive means of education.
The 2019 Giving Joy winners made a special appearance, delivering congratulatory messages to the 2021 award recipients and welcomed them into the NCL Giving Joy family. Viewers were also treated to special performances by "The Choir of Man" cast aboard Norwegian Encore, the Company's newest innovative ship currently sailing to Alaska.
To conclude the ceremony, Ulmer, unveiled the top three Grand Prize winners who received the most votes, awarding them with donations for their schools.
The Grand Prize winners are:
Shyam Thakker from Redford Union School District in Redford, Mich. ($25,000)

David Sowerby from Kraft Meadows Middle School in Caledonia, Mich. ($15,000)

Ashley Steadman from Evans High School in Orlando, Fla. ($10,000)
"What better time to honor these dedicated educators than at the start of a new school year," said Harry Sommer, president, and chief executive officer of Norwegian Cruise Line. "Last year was an incredibly challenging time for so many, especially teachers, who hold such a significant role in our communities. We are proud to host this campaign for the second year and to award these education heroes with a well-deserved vacation. And a special congratulations to the Grand Prize winners Shyam, David, and Ashley. Last year was an incredibly challenging time for so many, especially teachers, who hold such a significant role in our communities. We are proud to host this campaign for the second year and to award these education heroes with a well-deserved vacation. And a special congratulations to the Grand Prize winners Shyam, David, and Ashley
Harry Sommer, President, and Chief Executive Officer, Norwegian Cruise Line
Thakker was surprised with an additional $10,000 from PepsiCo Beverages North America and two roundtrip air tickets from Pleasant Holidays, both Cruise Line partners who were inspired by the Norwegian's Giving Joy campaign. Costco Travel also donated gift cards to all 100 award recipients.
All Norwegian's Giving Joy campaign honorees received a free week-long cruise, which they have until the summer of 2023 to enjoy.
The Company recently restarted its cruise operations on July 25, 2021, following a more than 500-day suspension, with Norwegian Jade launching seven-day itineraries to the Greek Isles. On Sunday, Aug. 15, 2021, Norwegian Gem became the first ship in the fleet to resume operations from Miami and set sail from the new Norwegian Cruise Line Terminal at PortMiami. Through October, the ship will offer a selection of week-long voyages to the Caribbean and four-day cruises to the Bahamas.
Norwegian's Giving Joy contest drew support for teachers all across the U.S. and Canada, with winners from Alabama, Arizona, British Columbia, California, Connecticut, Delaware, Florida, Georgia, Hawaii, Illinois, Indiana, Kentucky, Maryland, Massachusetts, Michigan, Missouri, Nebraska, Nevada, New Hampshire, New Jersey, New Mexico, New York, Ohio, Ontario, Oregon, Pennsylvania, Puerto Rico, Rhode Island, South Carolina, Tennessee, Texas, Utah and Wisconsin.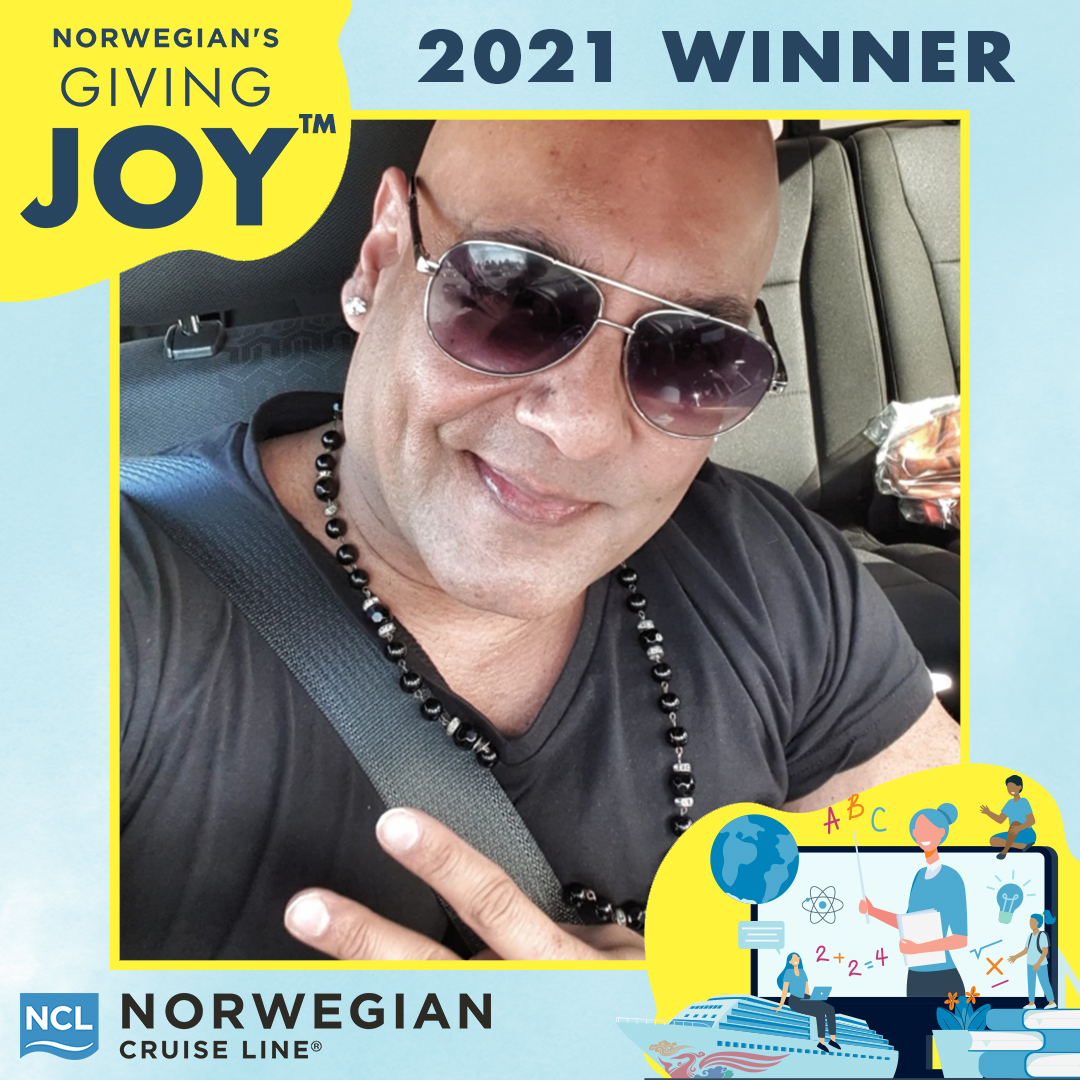 SHYAM THAKKER
$35,000 FOR REDFORD UNION SCHOOL DISTRICT | REDFORD, MI
A hard and dedicated educator who is committed to his community and students. He was nominated by channel 4 as a teacher of the year and has served his community during the pandemic. He is engaging and his students love him and appreciate him a lot.
Mr. Thakker has worked tirelessly during the pandemic to make sure his students stay safe and engaged. He went above and beyond to secure over 8,000 face masks for the district and over 300 Air Filtration Units for the classrooms so that the students and staff would be safe.
Mr. Thakker has been recognized for his community service by various news channels and has even been published in a magazine. He is a true role model. He even went to Kenya where he fed over 2,000 homeless children and does the same for the homeless in Detroit yearly. He was even able to get over 100 new basketballs from the Detroit Pistons which he then gave to his students as a way to make them smile during this difficult year.
Like I said a role model. Shyam Thakker works multiple jobs and is also an amazing father to his 17-year-old daughter. He represents the Redford Union School District with pride and definitely deserves this award.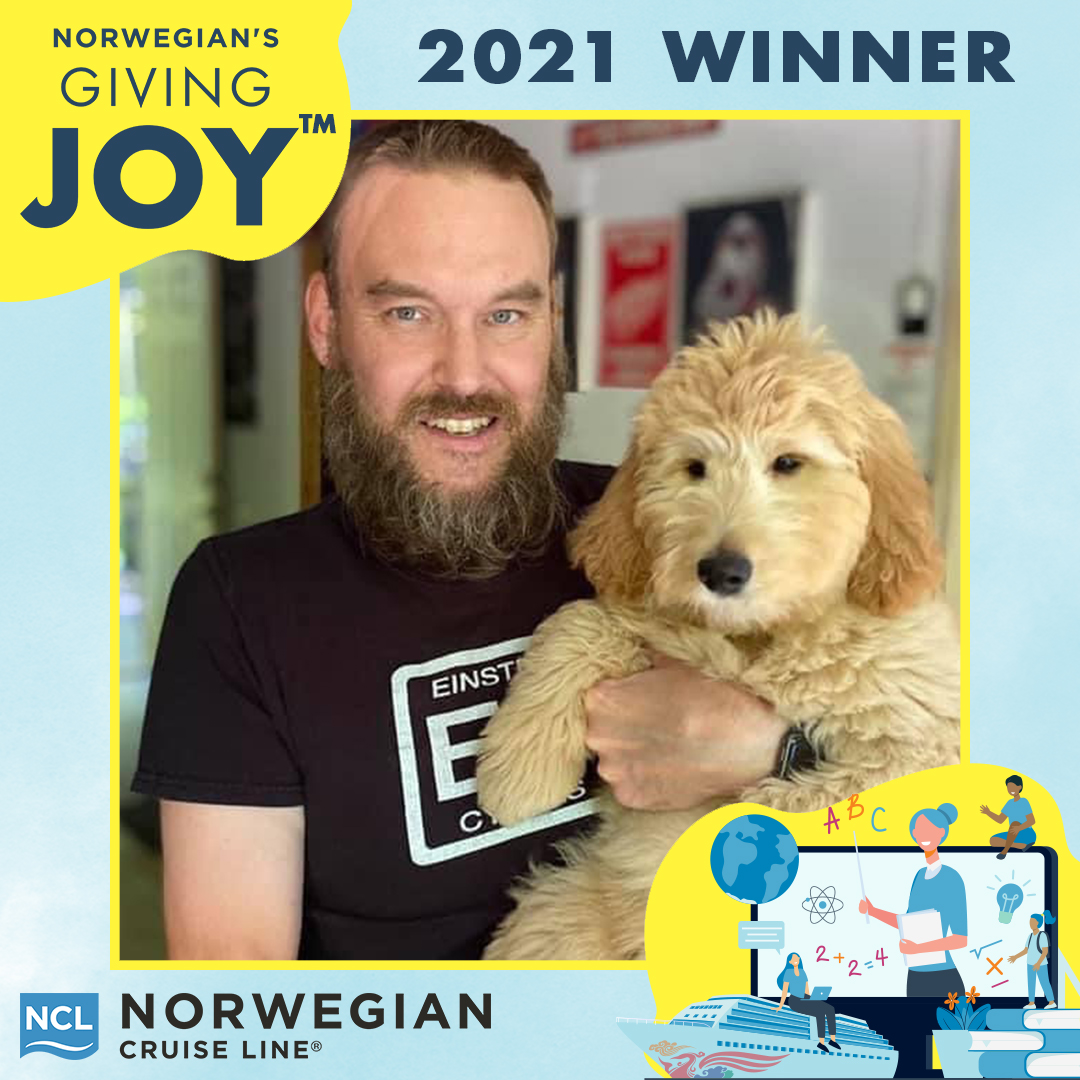 DAVID SOWERBY
$15,000 FOR KRAFT MEADOWS MIDDLE SCHOOL | CALEDONIA, MI
David Sowerby is an inspirational Orchestra Teacher in Caledonia, MI. He has battled through massive amounts of health issues including ulcerative colitis, primary sclerosing cholangitis, a liver transplant, and currently a Whipple procedure for cholangiocarcinoma. David has been currently hospitalized for 65 days and until this point had taught orchestra right up until his surgery.
Even during his health issues, he worked his very hardest to be an inspiration to his students, making sure that they excelled even as he fought his own medical battles. He has grown the orchestra program to the thriving program that it currently is.
He was nominated as a Rockstar Teacher by his Principal and continues to be a rockstar. His plans are to return to the classroom in the fall. This prize would allow him a very deserved break from the constant medical worries and constant worry about his students, classroom, and family. While not teaching he is a cherished father of 3 – a set of 17-year-old twins and an 11-year-old.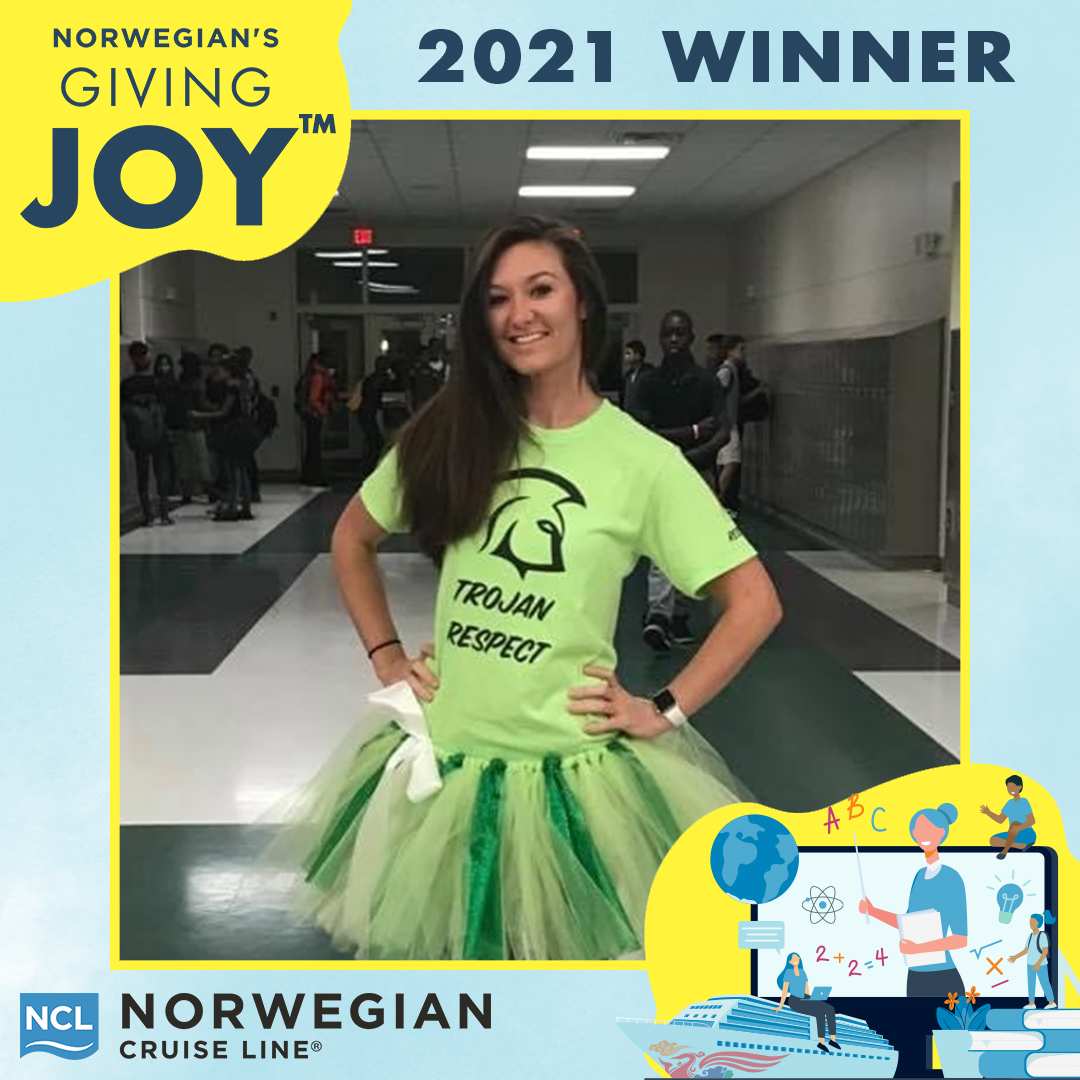 ASHLEY STEADMAN
$10,000 FOR EVANS HIGH SCHOOL | ORLANDO, FL
Ms. Steadman teaches AP Environmental Science and Honors Envir. Science at Evans High School which is a Title 1 School in Orlando, FL. She consistently goes above and beyond to ensure that all her students are engaged and understanding the material. She makes learning exciting with all the fun labs and activities she brings into the classroom.
This year with the pandemic, doing labs was difficult but she found labs that students in class and at home could participate in and enjoy. She spends many hours outside of school planning lessons to ensure her students are ready to pass their AP tests.
Last year was her first year doing AP EnvirSci and she increased the pass rate by 700%. Ms. Steadman doesn't just teach. She also sponsors the Student Government Association (SGA) SEL-ebrate club and coaches boys/girls swim team and girls soccer. With SGA, Ms. Steadman does her best to make every student's voice heard and brings fun activities to lunches and after school.
This year even with the pandemic she hosted lunchtime games, spirit days, and club meetings after school for students to bond virtually and in person. Ms. Steadman is the teacher that students know they can go to for anything, even those she has never taught before!