Acceleration of the Group's transformation designed to offer a complete set of shipping and logistics solutions to its customers.  
Continued investments in the Group's industrial assets: addition of 14 new owned vessels and 32 second-hand vessels to the fleet in 2021, with priority given to decarbonation. 
Sharp increase in revenue and EBITDA margin, still driven by the steady demand for consumer goods.  
Further strengthening of the Group's financial structure through net debt reduction. 
The Board of Directors of the CMA CGM Group, a world leader in shipping and logistics, met today under the chairmanship of Rodolphe Saadé, Chairman and Chief Executive Officer, to review the financial statements for the second quarter of 2021.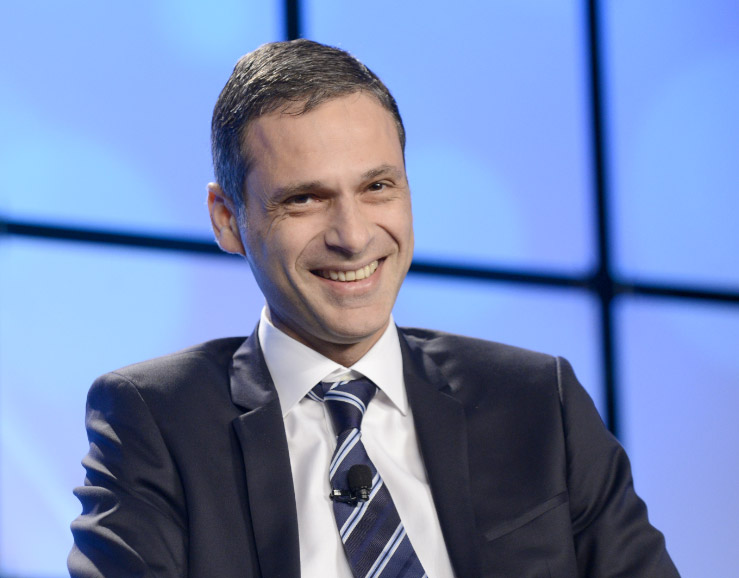 Commenting on the results just released for second-quarter 2021, Rodolphe Saadé, Chairman and Chief Executive Officer of the CMA CGM Group, said:  
"The strong rebound of the global economy has resulted in an unprecedented demand for transportation and logistics services. In this context, the Group achieved excellent results this quarter thanks to the mobilization of its teams. Container shipping performance was driven by higher volumes and freight rates. Our logistics subsidiary CEVA has continued to improve its operational and financial performance and posted a sharp revenue increase.  
While pressure on global supply chains is likely to persist, the Group's strong performance enables us to accelerate our logistics transformation and our investments in industrial assets. We are pursuing the effort initiated over the third quarter of 2020 to increase our capacity and meet our customers' needs. We also continue to accelerate our CSR agenda, to respond to the major challenges of the modern world and to successfully enable the energy transition "  
Acceleration of the Group's transformation
In light of the growth in international trade, the Group is accelerating its strategic transformation and its investments in order to offer global, agile, and innovative solutions to its customers. 
Continued investments in industrial assets to enhance services offered to customers 
The Group continues to improve the quality of its services and offers alternatives to its customers in the context of ongoing tensions on global supply chains. It is therefore pursuing its investments in order to strengthen its transportation offering.  
Since the beginning of the year, the CMA CGM Group has taken delivery of: 
8 new owned vessels, including the last five of its fleet of nine 23,000 TEU (twenty-foot equivalent units) vessels powered by liquefied natural gas (LNG). The Group is deploying all of its nine 23,000 TEU vessels between Asia and Northern Europe;  
1 new chartered 15,000 TEU vessel; 
15 second-hand vessels 
In addition, the Group has added more than 520,000 containers to its fleet in one year, an increase of 13%.  
Accelerated growth of CMA CGM AIR CARGO 
During the quarter, CMA CGM AIR CARGO, the Group's air freight division, expanded its network of destinations served from Europe with its four Airbus A330-200F aircraft: Chicago, New York, Atlanta, Dubai, and Istanbul. 
In order to support the development of CMA CGM AIR CARGO and the opening of new destinations, the Group is planning for the arrival of an additional aircraft by the end of the year and new equipment in 2022.  
Expansion of CEVA Logistics in Latin America
Already present in ten Latin American countries where it employs nearly 10,000 staff members, CEVA Logistics is boosting its development in the region with the acquisition of Cargex. This acquisition enhances CEVA Logistics' offer in the perishable commodities market in Latin America. 
Second quarter 2021 business activity and financial performance
Group: performance still driven by a favorable market environment across all segments 
Second-quarter revenue totaled USD 12.4 billion, up 77.2% as compared to the second quarter of 2020, which was marked by the sharp slowdown in international trade due to the COVID-19 pandemic and lockdown measures. This performance was supported by the Group's shipping activities and, to a lesser extent, by the logistics activities. 
Demand for shipping and logistics services has rebounded significantly since the second half of 2020 due to the shift in household consumption, particularly in Western countries, towards consumer goods at the expense of services that continue to be impacted by COVID-19 restrictions. This sudden increase in demand, combined with the effects of the pandemic, particularly on port operations, has resulted in global supply chain congestion at sea, in ports, and on land.  
EBITDA came in at USD 4.6 billion, representing an EBITDA margin of 36.9%, up 19.7 points versus the second quarter of 2020. 
Net income, Group share, stood at USD 3.5 billion.
The Group continued to strengthen its financial structure with further deleveraging initiatives in the amount of USD 725 million during the quarter. Net debt stood at USD 14.9 billion as of June 30, 2021, down USD 1.9 billion since December 31, 2020.
Container shipping: solid operational performance in a context of high demand  

In the second quarter of 2021, the Group transported 5.7 million TEUs, an increase of 19.1% over the second quarter of 2020, which had been heavily impacted by the downturn in global trade, and an increase of 4.4% over the first quarter of 2021. Container shipping activity was particularly dynamic on the Transpacific, Latin America and Intra-Regional routes.  
Container shipping revenue increased 89.4% year-on-year to USD 10.0 billion, driven by the increase in volumes and unit revenue. 
EBITDA for container shipping totaled USD 4.3 billion. EBITDA margin improved to 43.2%, up 24.1 points as compared to the second quarter of 2020, supported by average revenue per TEU of USD 1,756. 
Logistics: sharp increase in revenue and continued turnaround of CEVA

Revenue rose by 40.3% year on year and totaled USD 2.4 billion. This performance was driven by freight management services in a supportive market environment and, to a lesser extent, by the recovery of the contract logistics activities which had been severely impacted by the lockdown measures related to the COVID-19 pandemic in the second quarter of 2020. 
EBITDA rose by 34.7% to USD 210 million.  
CEVA's turnaround continues quarter after quarter in line with the IMPACT 2020 transformation plan. This plan is designed to enhance the commercial strength of CEVA, primarily via cross-selling to the CMA CGM customer base with a special focus on the Consumer & Retail, healthcare, and e-commerce segments, and to improve CEVA's operational efficiency and cost-to-serve.  
A Group committed to sustainable and responsible operations 
Along with its growth strategy, the Group continues to strengthen its social, societal, and environmental agenda. With strong family values, the Group acts every day for a more responsible and respectful trade. This commitment is embodied by BETTER WAYS, the new signature of the CMA CGM Group. 
Supporting our employees 
The Group created the CMA CGM We Care Fund with a USD 5 million investment to support its employees facing difficulties. The creation of this fund comes in continuation of the Group's actions undertaken in 2020 to support employees affected by the COVID-19 pandemic. 
Acting for the planet today 
Shipping decarbonization will be achieved using a set of energy solutions, including synthetic fuels, whose production infrastructure needs immediate support.  

Thus, the CMA CGM Group, which aims at achieving carbon neutrality by 2050, chose dual-fuel gas vessels as early as 2017. These vessels, which operate today with LNG and biomethane, almost completely eliminate emissions of atmospheric pollutants (air quality) and are a first step towards the reduction of greenhouse gas emissions. The engines deployed on these vessels already have the technical capability of using e-methane (instead of LNG), a source of carbon-neutral fuel. This "e-methane ready" fleet consists of 18 vessels already in service and a total of 44 vessels by the end of 2024.  
Availability of synthetic fuels in sufficient quantities to address the needs of the shipping industry will be a key challenge for their widespread use. The Group is committed to working with energy producers to support the emergence of decarbonized fuels. This challenge is a key focus of the Coalition for the Energy of the Future initiated by Rodolphe Saadé which promotes effective partnerships to accelerate progress. 
Protection of the environment has been a strategic priority for many years at CMA CGM, as evidenced by the concrete actions which have allowed the Group to reduce its CO₂ emissions per TEUKm by 49% between 2008 and 2020. The Group also offers its customers a set of solutions to allow them to reduce their environmental footprint.  
Taking action to mitigate global crises 
The Group continues to make available its industrial assets and its shipping, logistics, and air expertise to bring humanitarian aid to countries facing crises. Thanks to actions orchestrated by the CMA CGM Foundation, the Group shipped:  
8 oxygen production units and liquid oxygen containers to India with the deployment of a CMA CGM AIR CARGO aircraft and a Group vessel; 
55 tons of medical equipment to healthcare institutions in Tunisia to fight against COVID-19; 
Over 150 tons of drugs, medical equipment, and infant formula to Lebanese hospitals and NGOs across several humanitarian operations.  
Through its Containers of Hope operation, the CMA CGM Foundation offers equipment and essential aid to respond to emergency situations. Since the launch of Containers of Hope in 2012, more than 10,000 tons of equipment have been shipped to forty countries. 
CEVA Logistics also takes action to provide humanitarian assistance to countries affected by the COVID-19 pandemic. CEVA Logistics recently transported nearly 1,400 oxygen concentrators between Los Angeles and Jakarta via Singapore.