Feb 13 UPDATE: The ship was towed out of Xiamen on Feb 9 by leading SAR tug DE HONG (IMO 9191981) and 6 assisting tugs, and towed by DE HONG to Shanghai, for repairs. CMA CGM OSIRIS was off Shanghai, in the outer anchorage area, still on tow. ETA Shanghai Feb 14.
Feb 8: Container ship CMA CGM OSIRIS suffered engine failure while leaving Xiamen China, in accordance with Far East-Red Sea Service 2(RES2) schedule. Locals sources said that the giant ship with the pilot on board was already underway in the narrows of the main shipping channel, and being not under control, she should end up in a serious accident, blocking the channel.
Luckily, the tugs base is situated near the accident site, so three tugs were able to respond almost immediately, and prevent disaster. CMA CGM OSIRIS was taken back to the berth, an inspection found the main engine so damaged it needs ship repair yard. More than 5,000 containers were offloaded by Feb 7, CMA CGM OSIRIS is to be towed to the ship repair yard in Shanghai. Containers will be delivered to their destinations by substitute ships. CMA CGM OSIRIS was built in China, Hudong-Zhonghua Shipbuilding (Group) Co., Ltd., in 2021.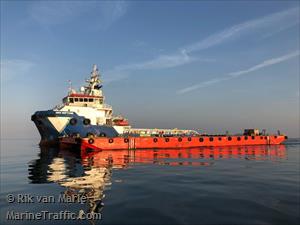 Container Ship

CMA CGM OSIRIS

is currently located at

CCHINA – East China Sea

at position 30° 59′ 56.9″ N, 122° 32′ 19.7″ E as reported by MarineTraffic Terrestrial Automatic Identification System on 2022-02-13 18:10 UTC (1 hour, 47 minutes ago)
The wind in this area at that time blows from the North direction at force 4 Beaufort.
The vessel departed from

XIAMEN, CN

on 2022-02-09 10:14 LT (UTC +8) and is currently sailing at 3.5 knots with West direction heading to SHANGHAI, CN with reported Estimated Time of Arrival at 2022-02-14 06:00 LT (UTC +8) local time (in 2 hours, 2 minutes )
CMA CGM OSIRIS (IMO: 9882504) is a

Container Ship

that was built in 2021 (1 year ago) and is sailing under the

flag of Malta.
Its carrying capacity is 15000 TEU and her current draught is reported to be 6.8 meters. Her length overall (LOA) is 366 meters and her width is 51 meters.